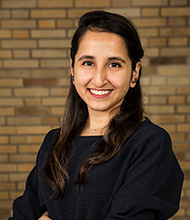 Dean's Fellow & Lecturer, Social Development & Policy
School Of Arts, Humanities & Social Sciences
Education
Master of Science in International Development
, Erasmus Mundus Joint Masters Degree (EMJMD) GLODEP – Joint degree from Palacky University (Czech Republic), University of Clermont Auvergne (France), University of Pavia (Italy).
Bachelor of Science in Economics and Mathematics
, Institute of Business Administration, Karachi, Pakistan.
Teaching Experience
GIS Workshop, IBA Economics and Finance Club, Karachi
Teaching Assistant, Department of Economics and Finance, Institute of Business Administration, Karachi
Teaching Assistant, Department of Mathematics, Institute of Business Administration, Karachi
---
Courses Taught
Geoinformatics (GIS)
International Trade
College Algebra
Calculus II with Solid Geometry
Research Interests
Spatial analysis of social (education and health) inequalities
Sources of inequality in education access and outcomes
---
Biography
I completed my Bachelors of Science in Economics and Mathematics from IBA with a CGPA 0f 3.78 and secured 4th position in a batch of more than 80 students. During my bachelors I secured scholarships to attend summer schools at Tsinghua University in Beijing, China and Bath Spa University in Bath, UK. I also managed multiple teaching assistantships and a research internship at IBA with Center for Business and Economic Research (CBER).
Based on my interest in the development sector, specifically in the field of education, I started my professional journey with Center for Economic Research in Pakistan (CERP) working on their joint project with New York University called THINK (Tracking Hope in Nairobi and Karachi). After 7 months of intense project management and research experience at CERP, I moved to The Citizens Foundation (TCF) where I started as an Operations Excellence Analyst. With TCF I learnt about the realities of K-12 education system in Pakistan which most of the students and teachers in the country experience.
With these learning experiences and my academic background, I was able to acquire an Erasmus Mundus Scholarship for a Joint Masters in International Development called GLODEP. GLODEP gave me an opportunity to receive education from three different universities in the specific areas of International Development Studies, Economics of Development and Global Development Policy. I completed my Masters journey with a research internship at Center for Modern Indian Studies at the University of Goettingen and a Masters Thesis on "Exploring Spatial Inequalities in Educational Outcomes".
---
Selected Awards and Accomplishments
Graduated with Honors from EMJMD GLODEP
Secured Erasmus Mundus Scholarship for Masters in International Development
Secured 4th Position in Undergraduate from IBA and made it to the Dean's list
Officially acknowledged as the research assistant in the book "The Economy of Modern Sindh" by Dr. Ishrat Hussain
Received full scholarship for a summer school in Beijing, China called "Financial Leaders of Tomorrow" at the People's Bank of China School of Finance (PBCSF) at the Tsinghua University
Received partial scholarship for attending the Association of Common Wealth Universities Summer School in Bath, UK at the Bath Spa University on "Creating Greener Initiatives through the Environmental Arts and Humanities".