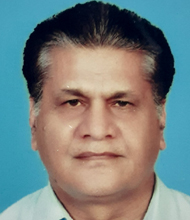 Visiting Professor of Practice, Comparative Humanities
School of Arts, Humanities & Social Sciences
Education
MA (Economics), Karachi University
MA (Political Science), Punjab University
---
Courses taught at Habib University:
Kheyal Gayaki
Thumri ki Kahani
Ghazal Gayaki
Folk Music
---
Teaching Experience:
NATAK (1976-1983): Coached for 7 years.
PNCA, Karachi (2016-2018): Music Consultant conducting 6-month music courses.
PACC, Karachi (2018 onward): Classical Music Teacher, currently conducting a 6-month course.
---
Biography
Ustad Shahid Hamid, a distinguished figure in the realm of music, is celebrated as a multifaceted music educator, vocalist, instrumentalist, and author. His journey seamlessly intertwines his professional life in banking with an impassioned dedication to the world of music, marking him as a luminary in both domains.
Having pursued a prolific banking career spanning 31 years within the State Bank of Pakistan, where he ascended to the esteemed position of Joint Director, Shahid Hamid's initial trajectory was deeply rooted in the financial landscape. However, his heart resonated profoundly with the artistry of music, igniting an unrelenting passion that ultimately steered the course of his professional endeavors.
In his fervor for music, Shahid Hamid ventured into the depths of classical music, not merely as a practitioner but as an erudite scholar. His invaluable contribution to the music world comes through the literary realm, where his profound knowledge found expression in the written word. He authored several seminal books that illuminate the intricacies of classical music, offering profound insights into the nuances of this art form. "Raag Music," a treasure trove of classical music's essence, stands as a testament to his scholarly prowess. This invaluable tome, published by the Tehzeeb Foundation of Pakistan in both English and Urdu, elucidates theoretical discussions, musical analysis, and technical details of 82 Raags alongside 172 traditional compositions.
---
Publications
Authored multiple music books including "Raag Music," "Raag Mousiqi," "Music Chronicles," and "100 Popular Singing Ghazals."