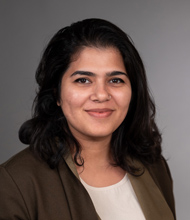 Dean's Fellow, Social Development & Policy
School of Arts, Humanities & Social Sciences
Education
Master of Social Work (Specialization in Organization & Community Leadership) from Michigan State University (2021-2023) through Fulbright Scholarship
Bachelor of Sciences in Social Development & Policy from Habib University (2015-2019)

---

Courses

Qualitative Research Methods
Rhetoric and Communication
Public Policy 2

---

Teaching Experience

Graduate Assistant at Michigan State University (2021-2023)

---

Biography

Uswa Ali Memon is a community-driven development practitioner and researcher who focus on Rural Development. With four years of experience in implementing community-driven development programs, she has a deep understanding of the intricacies involved in program planning, policy change, and advocacy. Her research area of expertise lies in understanding the political economy of Rural Sindh, particularly concerning the issue of uneven development.