Join Us in Shaping Futures
Our mission is shaping futures. We provide a demanding, contextually relevant and engaging world class liberal arts and sciences education to the most talented students, regardless of their financial capacity or any social considerations. With the goal of becoming a global leader of undergraduate Liberal Arts and Sciences by 2030, we aim to disrupt the system of higher education in Pakistan by producing skilled, engaged, and empathetic leaders of tomorrow. With a focus on teaching excellence, our faculty is offered a wide range of benefits and resources. If you're ready to help us shape futures, there's a place at Habib University for you.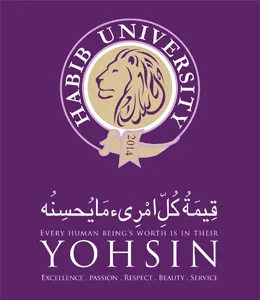 Our Values
Habib University's values are captured in the Arabic verb Yohsin ( يحسن ), which is rooted in the core Islamic notion of ʾiḥsān. Yohsin entails measuring each person's worth not only by the depth of their knowledge or skills, but by their application to both personal self-cultivation and perfecting the world. Learn more
Our Aims
At Habib University, we believe that the essence of a Liberal Arts education is its interdisciplinary nature, which allows us to adapt to a constantly evolving modern world.As a student-centric university, we are committed to nurturing intellectual growth and giving back to the community. Learn more
Opportunities at Habib
Are you
passionate
about teaching?
Ph.D. graduates, passionate about teaching and student learning bring value to Habib University's mission. Please explore the open positions in your relevant field of interest and apply for an *Open rank Assistant/Associate Professor or Professor faculty position.
*Rank is determined based on University's faculty recruitment criteria including academic qualifications and previous experience in-rank.
Are you an
industry
practitioner?
Industry knowledge and expertise when brought into the classroom enhances students' learning experience.
You may choose to apply for a Professor of Practice position, if you are an industry practitioner who alongside the practice, also wishes to explore practitioner pathways into higher education, please reach out to our academic recruitment team at academic@habib.edu.pk, for further information.
The Habib University Dean's Fellows are a select group of exceptionally talented and promising young scholars who wish to gain exposure to academia, and enhance their skills. If you have recently completed your Master's and have the desire to indulge in academia to later pursue the path for a doctoral degree, this is the right program for you. For more information on the Dean's Fellow Program and to apply please visit here.
What You Need to Know
What is it like to be a faculty member at HU?
---
Faculty at Habib University is passionate about interdisciplinary education, possess excellent teaching skills and embrace diversity. They are motivated by interdisciplinary discourse, to imagine a brighter future both locally and globally. With an aim to inspire, innovate, and nurture the next generation of leaders, they are committed to facilitating a free exchange of knowledge in order to foster an environment of intellectual growth and discovery.
On the research front, the faculty strives to create a vibrant undergraduate research culture through its community. They create knowledge at the forefront of their disciplines, and investigate and solve problems that are critical in our national and regional contexts. Students work alongside faculty as collaborators, presenting findings at conferences and co-publishing papers in peer-reviewed journals.
Program Information
---
Programs
The strength of Habib University lies in its well-rounded academic programs, and pedagogy that stands shoulder to shoulder with the best, internationally acclaimed institutions around the world.
We offer undergraduate degree programs in the following six disciplines from the two schools: The School of Arts, Humanities and Social Sciences and The Dhanani School of Science and Engineering.
The School of Arts, Humanities and Social Sciences (AHSS):
The Dhanani School of Science and Engineering(DSSE):
In addition to the 3 majors offered, DSSE's Integrated Sciences and Mathematics (iSciM) program offers a diverse range of courses that allow students from all disciplines to broaden their understanding of natural science and mathematics.
The Playground
The Playground is set as the most cutting edge design research facility in the country. Faculty within The Playground collaborate with their peers across all programs to support activities and programming, including co-developing design-led course content. Learn more about The Playground here
Have questions about applying for a position? Let us help you!
---
All applications are received and screened by the Office of Academic Operations, alongside the Program Search Committees. Shortlisted candidates are contacted by the recruitment manager via email or contact number (as provided on their application)*.
*Due to a high number of applications, only shortlisted candidates are contacted.
If you wish to contact the recruiter for any queries, please feel free to write to academic@habib.edu.pk
Introduction to the Office of Academic Operations
With a dedicated team of people catering to faculty recruitment, onboarding, academic operations and planning and round the clock faculty support, the Office of Academic Operations supports the faculty and programs in meeting their academic planning, human resource and administrative needs.
As a faculty, your central point of contact is the Office of Academic Operations, led by Mr. Salman Khimani as Director Academic Operations and Strategic Planning.
Feel free to reach out to the team or Salman for any queries or matters you would like to discuss at: salman.khimani@habib.edu.pk or Ext: 5113
Benefits
---
We realize that your wellbeing matters as much as your work. The all-encompassing set of benefits offered at Habib University help you grow, recharge and care for yourself and the ones that are dear to you.
Health
One of the pillars of happiness is good health! In order to provide you with support in times when it's needed the most, we offer health plans not just for you but for your loved ones as well. All full-time faculty and their eligible dependents are entitled to in-patient medical care (hospitalization) benefit. The health insurance coverage provides access to best private hospitals in Karachi and other major cities in Pakistan.
Accommodation
Finding a home in Karachi can take as little as a few days and even up to a month, depending on what you're looking for and what's available. We take all measures to ensure finding you a home based on your requirements is seamless.
For faculty outside Karachi, we help streamline the relocation process by providing temporary accommodation, finding a suitable housing and assisting with rental contracts and payments.
Well-rounded Wellness
Making well-rounded wellness a priority is key to leading healthier lives. At Habib, we care for all dimensions of your wellness and provide social and physical support through the following facilities:
State of the art gymnasium and swimming pool
Tennis and basketball courts
De-stressing zones (Zen Garden)
Dedicated spaces to learn and practice South Asian classical music
Health and Wellness Centre, consisting of on-campus mental health counsellors
Learning and Growth
Enabling and empowering you to grow tops our list! Habib University provides a number of opportunities, resources, and programs that contribute to your learning and development. Through the Centre of Pedagogical Excellence and Office of Academic Research, we encourage the creation of knowledge, a range of opportunities and support including but not limited to: research grants, travel and publication grants, and access to partner institutions are available to faculty members.
Academic Freedom
At Habib University, we are committed to academic freedom – a belief that the goal of higher education is to facilitate a free exchange of knowledge and ideas in order to foster an environment of intellectual growth and discovery. Faculty have the autonomy to create their own material and devise new courses, leveraging the value of interdisciplinary knowledge.
Purpose-built campus
With well-equipped labs and studios, dedicated faculty pods, and design thinking spaces, our award-winning campus is aesthetically designed with meaningful ambience, colors and forms, to enable your interaction and fuel innovative collaborations. The spaces are designed considering access for those who are physically challenged.
Application Process
---
Online Application
The candidate is required to submit the complete application with the necessary documents on the portal. Once the application has been submitted, the applicant will receive a confirmation email shortly.
Initial Review
The initial review can take up to 3 weeks. Candidates who are shortlisted after the initial review, are invited for an interview.
Interview
A panel interview is conducted with 3-4 members from the program search committee. It is a technical interview and the conversations revolved around the candidate's pedagogy, research statement and aspirations. This may interview may take upto 60 minutes.
Teaching Talk
The purpose of a teaching talk is to assess, the candidate's teaching methodology and creativity within a class room setting for an undergraduate level course. The candidate is expected to prepare a 40-45 minutes long class which is followed by a 15 to 20 minutes question and answer session. In case the candidate needs some special arrangements to be made for the teaching talk, they are expected to inform the Office of Academic Operations prior to the talk.
Interview with Deans, Interview with External Panel
This is a panel interview which includes all the deans and director of academic operations. This interview aims if the candidate's teaching and research aspirations are aligned with Habib's mission for a world class undergraduate experience for its students. The interview can take upto 60 minutes.
If considered for a position of Associate Professor and above, there are two additional interviews with Habib University's external advisors. These include senior faculty from Habib University's partner institutions.
Final Meeting
The candidate is offered the position during the final meeting with the President or his designate. The Office of Academic Operations, sends a contract shortly thereafter.
The entire process may take between six and eight weeks, however after the initial interview, the candidates are informed about the outcome of each step and expected timelines for the next.
Habib University is an Equal Opportunity Employer
At Habib University, we are dedicated to an inclusive and diverse community. We believe a community's strength lies in its diversity of identities and backgrounds. We are committed to equality and applicants will not be discriminated against on the basis of race, colour, sex, gender identity, religion, disability, age, or national or ethnic origin.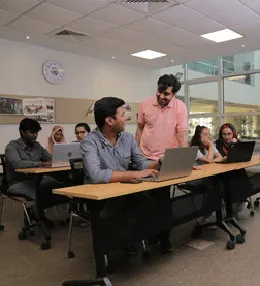 Open Faculty Positions
Habib University is welcoming faculty applications for its Fall and Spring semesters. Faculty appointments begin from August 1 for Fall and January 1 for Spring.
Click on the links below to read the detailed requirements for specific programs:
Dhanani School of Science and Engineering
School of Arts, Humanities & Social Sciences
Playground