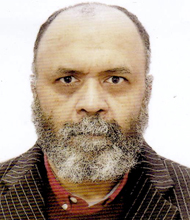 Associate Professor, Comparative Humanities
School of Arts, Humanities & Social Sciences
Biography
Dr. Saeed Ur Rehman is an HEC-approved PhD supervisor. In 2017, he chaired the Subcommittee on the syllabus for English Literature for the HEC National Curriculum Review Committee. He received his Doctor of Philosophy in English Literature and Postcolonial Knowledge from the Australian National University in 2005, with a dissertation titled Intellectuals and Specificities: A Study of Postcolonial Knowledge Production by Ziauddin Sardar, Akbar S. Ahmed, and Sara Suleri.
Throughout his academic journey, he has made significant contributions to the field through publications, research, and teaching. Dr. Saeed Ur Rehman has authored and edited several monographs, and research reports, including Narrating Pakistan: An Anthology of Contemporary Creative Writing (2023), and numerous articles in national and international refereed journals. His research interests encompass topics such as translation, postcoloniality, and the figure of the postcolonial intellectual.
Dr. Saeed Ur Rehman is an active member of academic associations like the Modern Languages Association (MLA) and North-Eastern Modern Languages Association (NeMLA). He has also served as an expert member and contributed to faculty selection boards and curriculum development committees.
Dr. Saeed Ur Rehman's extensive engagement with academia and research reflects his passion for advancing knowledge and fostering intellectual discourse.
---
Education
2005 Doctor of Philosophy English Literature and Postcolonial Knowledge, Australian National University, Australia.
1997 M.A. Honours, University of Wollongong, Australia
---
Teaching Experience
2019 Visiting faculty LUMS, Lahore
2017–2018 Associate Professor and Postgraduate Studies Coordinator, University of Lahore, Lahore
2015–2017 Associate Professor Department of English, Forman Christian College, Lahore
2014–2015 Assistant Professor, Lahore School of Economics, Lahore
2011–2013 Assistant Professor International Islamic University, Islamabad.
2003 – 2006, Assistant Professor at BNU, Lahore
---
Selected Courses taught
Critical Theory (LUMS)
Coordinator Higher Education Commission's Undergraduate and Postgraduate Curriculum on Literature 2017–2020
Research Methods (Postgraduate) Contemporary Short Fiction (Postgraduate) Postmodernism and Literature (Postgraduate) Critical Theory (Postgraduate)
Creative Writing (Undergraduate) Introduction to Literature (Undergraduate)
Designed the MA Program in English Literature to be offered at the School of Liberal Arts, Beaconhouse National University, Lahore in 2004.
Introduction to Literary Theory (Beaconhouse National University) Introduction to Postcolonial Theory (Beaconhouse National University) Pakistani Writing in English (Beaconhouse National University)
Qualitative Research (Beaconhouse National University)
Contemporary Short Fiction
Communication and Cultural Studies
---
Selected Publications
2023 Narrating Pakistan: An Anthology of Contemporary Creative Writing. Ilqa, an Imprint of Readings, Lahore.
2013 Co-authored with Ahmer Naqvi. Apolitical or Depoliticised? Pakistan's Youth and Politics: A Historical Analysis of Youth Participation in Pakistan Politics. Jinnah Institute, Islamabad
2010 Co-authored with Afiya S. Zia. The Impact of Educational Policies on the Religious Minorities of Pakistan: 1947–2010. SAFHR, Karachi
2012 "The Permanence of Things." Pakistani Literature, Islamabad, Pakistan Academy of Letters, Volume 15, Number 01, pages 72-76, 2012.
2012 "Blood and Spit," A Translation of Saadat Hasan Manto's Story "Khooni Thook." Pakistani Literature, Islamabad, Pakistan Academy of Letters, Volume 15, Number 01, pages 163-173, 2012.
2006 "The Sharpness of Grass Blades" A Short Story on contemporary global politics. Blip Magazine, Volume 12: Number 1 https://newworldwriting.net/backissues/2006/Vol12No1-Jan06/1201- 010906-rehman.html