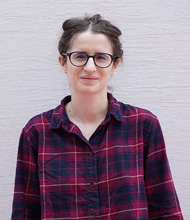 Assistant Professor,
Social Development & Policy and Director Deans fellowship program
School Of Arts, Humanities & Social Sciences
Education
Ph.D. in Sociology, Northwestern University, USA & Sciences Po, France (2015-2020)
Visiting Student, Pontificia Universidad Católica de Chile, Chile (Summers 2017 & 2018, Spring 2019)
M.A. summa cum laude in Sociology, Sciences Po, France (2013-2015)
B.A. summa cum laude in Social Sciences, Sciences Po, France (2010-2013)
Visiting Student, El Colegio de México, Mexico (2012-2013)
Teaching Experience
Assistant Professor, Technical School of Innovation, American University of Central Asia, Kyrgyzstan & Faculty Fellow, Collaborative for Liberal Education for Adolescents
Graduate Research & Teaching Assistant, Northwestern University, USA & Sciences Po, France
---
Courses Taught
Scientific Methods
Senior Research Seminar: Karachi
Social Theory I
Urban & Rural Sociology
Research Interests
Urban & Rural Sociology
Cultural Sociology
Ethnography
Writing for the Public (Social Sciences & Humanities)
---
Biography
I obtained my Ph.D. in Sociology from Northwestern University and Sciences Po. My professional interests include urban & rural sociology, cultural sociology, and ethnography. Within my dissertation research, I studied the dietary tastes and culinary practices of first- and second-generation immigrants in neighborhoods of Chicago and Paris.
I enjoy collaborating with colleagues and students of various backgrounds and experience levels. For instance, I have been an investigator in projects on: – social times and eating practices in Santiago and Paris; – barriers to participation in the WIC (Women, Infants, and Children) program in the United States; – electoral participation and human development in Mexico and Central America; – worldviews of garbage collectors in Paris; – Egyptians' recollections of the 2011 revolution.
Lastly, I have a longstanding interest in writing for cultural, literary, and political magazines, mostly Ibero-American.
---
Selected Awards and Accomplishments
Sociology Fieldwork Research Fellowship, Department of Sociology, Northwestern University, USA (2020)
Undergraduate Research Assistant Program Grant, Office of Undergraduate Research, Northwestern University, USA (2018-2019) [with G.A. Fine, M. Sheridan]
Research Travel Grant, ECOS Sud – National Commission for Scienific and Technological Research, Chile & France (2017, 2018, 2019) [with C. Giacoman, A. Lhuissier]
Graduate Research Fellowship, Ministry of Higher Education & Research, France (2015-2018)
---
Selected Publications