Academic advising is an integral part of the undergraduate learning experience, and is a powerful tool to help students realize their full potential. It helps students in navigating the maze of educational options and opportunities, and supports them in creating solutions to their academic as well as personal problems. The Academic Advising Unit of OAP engages with all the students and assists them in developing thoughtful plans to enrich their undergraduate learning experience at Habib University.
Why Academic Advising
Academic advising at Habib University helps students in realizing their full potential by achieving their educational and personal goals. The aim of our Academic Advisors is to ensure the following:
Support students in achieving the learning outcomes set by the University by helping them in setting goals, developing academic success plans, using effective tools to manage their work, and acquire required support from campus resources.
Guide students to select appropriate courses for their major and minor(s) (if any).
Help students keep track of their degree requirements.
Encourage students to reflect on their learning experience and create plans to overcome challenges and further build on their strengths.
Facilitate students in exploring a variety of learning opportunities on campus and beyond, so they're able to improve their intellectual and personal wellbeing, and diversify their experiences.
Assist students in understanding university academic policies and processes, and to integrate them in their plans.
LEAD – Habib's Advising Framework
Habib University has created a robust framework for academic advising to ensure the holistic wellbeing of their students. LEAD is the Academic Advising Framework of Habib University. It is based on the philosophy of Developmental Advising.
LEAD has three facets to its developmental advising plan that cater to the needs of the students. The following diagram presents the three facets.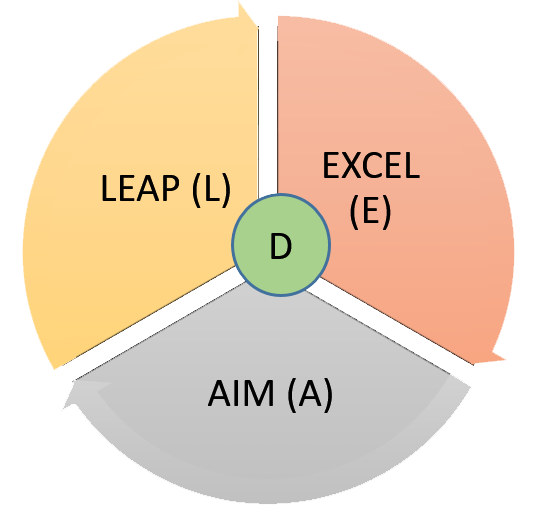 LEAP (L):
This facet of advising caters to students who perform below good academic standing. The key focus of advising is to assist students in making a LEAP from 'below good academic standing' (a CGPA of below 2.33) to 'good academic standing'.
EXCEL (E):
This facet of advising focuses on students with a CGPA ranging from 2.33 to 2.99. Since students in this category are already maintaining a CGPA required for good academic standing, they will be encouraged and supported to EXCEL further. The key goal here is to strive to improve one's academic performance and diversify their meta-curricular experience.
AIM (A)
This part of the advising program works with students who maintain a minimum CGPA of 3.0. The key purpose of advising in this case is to help students maintain their grades, as well as inspire and guide them to AIM towards honing their talents and potential. This is done by engaging them in intellectually challenging and creative endeavors such as research, publications, development of creative tools/products, taking lead roles in mentoring other students etc.
Development (D)
Student Development is the main outcome of the three forms of advising mentioned above. A student's overall development is manifested through enhanced academic performance, increased meta-curricular participation, clarity of personal and professional goals, and the nurturing of intellectual, personal, interpersonal, and emotional skills.

Connect with Your Advisor
You can meet with your Academic Advisor at the Office of Academic Performance at the Student Centre. For further inquiry, email at advising@habib.edu.pk