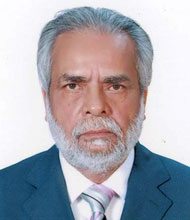 Associate Professor of Practice,
Comparative Humanities
School Of Arts, Humanities & Social Sciences
Biography
Afzal Ahmed Syed holds an MS degree from the American University of Beirut. A leading contemporary Urdu poet and translator, he is known for his mastery of the Urdu language and poetic expression in both classic and modern sense.
Well-known for his experimental style of writing, he has published three collections of prose poems and one of ghazals so far, with an extensive knowledge of rhythm and personalized style in the Urdu language. His collected work is published as "Mitti Ki Kan".
The Wesleyan University Press, USA published a selection of his poems, and his complete work has been published in 2015 by Yoda Press, New Delhi, both under the same title: "Rococo and Other Worlds" and translated by Musharraf Ali Farooqi. Translations of his poetry have also been published in Sindhi, Hindi, Bengali, Arabic and German.
He frequently translates from English and Persian and has a strong command over the languages, built over the course of his on-going career. His translations of the Sabak-e-Hindi poets appeared in Dunyazad, Karachi. He has also translated the complete Persian works of Mir Taqi Mir, which have been published by Oxford University Press under the title "Divan-e-Mir Farsi Maa Urdu Tarjuma".
His research interests include the influence of Bedil and other Sabak-e-Hindi poets on Urdu poetry, development of prose poetry in Urdu, and early Urdu travelogues.