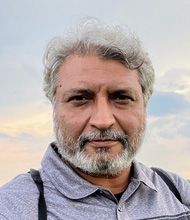 Visiting Associate Professor of Practice, Communication & Design
School of Arts, Humanities & Social Sciences
Education
MA. in Art Education, School of Visual Art & Design, BNU, Lahore, 2021
MA. In Psychology, University of Karachi, 2013
Certificate in Film Making, Indus Valley School, Karachi, 2005
Certificate in Graphic Design and Advertising, Parsons School of Design, New York, 1998
---
Courses Taught
Design for Social Change
Publication Design
Fundamentals of Interaction Design
Principles of Interaction Design 1 & 2
Designing Experiences (UX)
Interactions for Social Change
Typography
Fundamentals of Design and Communication
GUI Design
Art and Play Therapy
Design Practices 1 & 2
---
Teaching Experience
Asst. Professor, Indus Valley School of Art & Architecture, 2019 – 2023
Adjunct Faculty, SZABIST, 2008 – Present
Visiting Faculty, IBA, 2018 – Present
Visiting Faculty, Habib University, Aug – Dec 2021
Program Coordinator, University of Karachi, 2010-2017
Adjunct Faculty, University of Karachi, 2017-2019
Senior Lecturer, Indus Valley School of Art and Architecture, 2003-2009
---
Research
Knowing the Unknown: Humanizing Transgender People, 2020. Presentation at the Fourteenth International Conference on Design Principles & Practices, Pratt Institute, New York, USA
---
Biography
Mirza Muhammad Amir is an esteemed educator and visionary designer, renowned for his exceptional contributions in the field of art and design education. As an Assistant Professor at the Indus Valley School of Art & Architecture, he took on the pivotal responsibility of overseeing and managing the Interaction Design major and minor, His curriculum design endeavors have been marked by a learner-centered approach and a profound commitment to constructivist pedagogy, a testament to his dedication to providing a transformative educational experience.
Amir's pursuit of knowledge is reflected in his academic accomplishments. He holds an MA in Art Education and an MA in Psychology, further enriching his understanding of human behavior and creativity. His diverse skill set encompasses expertise in software tools such as Photoshop, Illustrator, InDesign, XD, Figma, Microsoft Office, SPSS, Miro, and Google G-Suit
Amir's impact extends beyond IVS. He has served as an Adjunct Faculty at various prestigious institutions, including IBA, SZABIST, Habib University, and the University of Karachi. Through these roles, he has imparted his knowledge and expertise to aspiring designers, leaving an indelible mark on the realm of art and design education.
Beyond academia, Amir's innovative spirit shines through his founding of Amal. A platform that bridges mental health, education, and design, Amal's initiatives reflect his dedication to holistic well-being. From designing workshops for systematic analysis and responsible decision-making to creating aptitude tests for art and design universities, Amir's multifaceted contributions underscore his commitment to empowering individuals and promoting social-emotional learning.
Furthermore, Amir's artistic flair finds expression in Hunar Paaray, a boutique art and craft online shop. Here, traditional calligraphy and motifs are transformed into exquisite handmade objects, showcasing his reverence for heritage and craftsmanship.
Amir's extensive professional journey includes roles as an Art Director, consultant, and freelance designer. His portfolio boasts collaborations with renowned entities such as Prestige Communications, The Express Tribune, and an array of esteemed clients. His freelancing endeavors have resulted in the creation of impactful designs for advertising campaigns, exhibition displays, magazines, and more. Moreover, he has been rewarded with several honors and awards during his professional career such as Winner of Best App at Ilm Apps Challenge by Pakistan Innovation Foundation.
---
Research and Publications
Beginnings and Impact of the DSC course, 2021. Graduate dissertation, BNU, Lahore, Pakistan