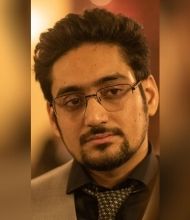 Affiliated Lecturer, Social Development and Policy
School Of Arts, Humanities & Social Sciences
Education
Certificate of Communication, Leadership & Policy Development, University of Cambridge, UK
MA Public Administration & Public Policy, University of York, UK
---
Courses Taught
Education Planning
Public Policy
Social Theory
Pakistan Institutions & Youth
The Economy of Modern Sindh
Pakistan & Modern South Asian
---
Biography
Mr. Qazi M Zulqurnain Ul Haq is a Chevening Scholar and a recipient of various international accolades. He holds more than 5 years of experience in the development sector. In 2015 he joined the provincial education department as the World Bank's Technical Assistance to implement Sindh Global Partnership for Education under Education for All initiative. He previously worked in the Health Sector for a Non-Profit organization as Assistant Manager Resource Development & Projects.
In 2018, Mr. Zulqurnain was awarded Emerging International Leader for Freedom of Religion and Belief (FoRB) Fellowship by the Cumberland Lodge, UK. He was one the few recipients from the cohorts of Chevening and Commonwealth Scholars. Between 2018-19, Mr. Zulqurnain worked as a Senior Research Fellow for the provincial research study, the Economy of Modern Sindh authored by Dr. Ishrat Husain, current Advisor to the Prime Minister for Institutional Reforms and Austerity. The study was published by Oxford University Press. In 2019, he was awarded Future Leaders Connect Fellowship by the British Council and the University of Cambridge, UK. He was one of the 4 recipients from Pakistan for this award.
In 2019 Mr. Zulqurnain set up his Research Center, Youth Center for Research (YCR) to inculcate research-driven discourse among the youth for meaningful contribution in Sustainable Development. In 2020, his idea of the YCR was selected for Middle Eastern Network for Dialogue at Stanford by the Stanford University.
During his Academic Program in the UK between 2017 and 2018, Mr Zulqurnain's thesis focused on Fiscal Federalism. He primarily studied the impact of political arrangement (Democracy and Military Dictatorship) on fiscal decentralization. His current research interest focuses on Sustainable Development, Youth Engagement, Policy Implementation, Regional Studies and Impact Analysis.