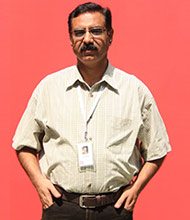 Assistant Professor of Practice,
Comparative Humanities
School Of Arts, Humanities & Social Sciences
Biography
Inamullah Nadeem has a postgraduate degrees in Urdu Literature and Economics from University of Sindh, Jamshoro. He is currently a PhD candidate in the department of Music at the Punjab University, Lahore.
Before joining Habib University, Mr. Nadeem has worked as an Assistant Professor at the Government Degree College, Shahdadpur, Sindh. He has diverse experience in teaching and training undergraduate & graduate level students in literature.
Mr. Nadeem possesses experience, expertise and qualification in different fields of creative arts. He is a poet-writer, critic and translator. He is the author of a book of Urdu verses by the name of 'Dar-e-Khawab'. He has extensive experience in translating pieces of literature in the Urdu and Punjabi languages.
His deep interest in various musical art forms, vocal and instrumental, evolved into a good grasp of the theory of eastern classical and semi classical music. An area of particular specialization in his case is the film music of the sub-continent for the past eight decades. He has written extensively in various periodicals and publications about the great composers, crooners and enounces of the film music of the subcontinent.
Mr. Nadeem also has a deep interest in production and presentation of television software. He has experience with Pakistan Television – the country's largest television network – and is well-versed in writing scripts, planning formats and editing content of television programs for various channels based on topics as varied as cinema, music, poetry and commemoration of historical figures of Pakistan.
Apart from this, an inborn talent to draw and paint well, compelled Mr. Inam to learn the basic technique of oil painting, which resulted in a memorable and notable collection of canvases His subjects range from landscape to portraits.