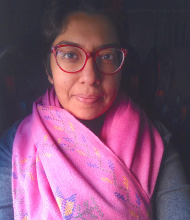 Assistant Professor of Practice, Communication and Design
School of Arts Humanities and Social Sciences
Education
M.A. in News & Documentary, New York University, New York, USA on the Fulbright Scholarship
---
Courses Taught
Visual Communication
Narratives Across Media
Let's Get Talking!
Communication for Social Change
(Re) Covering Ethnicity
Teaching Experience
Habib University, Fall 2015 till date.
---
Awards
Winner of the Academy Award for Best Documentary Short
Winner of the Emmy Award for Best Documentary
Winner of the Emmy Award for Outstanding Politics & Government Documentary
Winner of the Alfred I. duPont Award
Winner of the Foreign Press Association Media Award
Winner of the Robert F. Kennedy Journalism Award
Winner of the One World Media Award
Nominated for the Peabody Award
---
Biography
Haya Fatima Iqbal is an Academy and two-time Emmy winning documentary filmmaker based in Pakistan.
Through her documentary work, she has covered a range of issues connected with social justice ranging from gender and militancy to climate change and water scarcity. Her work has been featured on HBO Documentary, BBC, Al Jazeera, Channel 4 UK, VICE, National Geographic Society, Redfish, CNN and the Thomson Reuters Foundation among other media organizations.
Haya's storytelling of a 19-year-old honor-killing survivor in the film A Girl in the River: The Price of Forgiveness resulted in Pakistan's parliament passing a law tightening punishment against perpetrators. The film won an Oscar for Best Documentary Short in 2016, and the Emmy Award for Best Documentary in 2017. In 2019, Haya's co-produced feature-length documentary Armed With Faith won the Emmy Award for Outstanding Politics & Government Film. The film follows the lives of three men who work to defuse bombs with the police department in the province of Khyber Pakhtunkhwa, Pakistan.
Her work with Humans of New York photo blogger Brandon Stanton resulted in never-heard-before stories from Pakistan reaching the world, including the story of a woman named Syeda Ghulam Fatima who is working to end bonded labor in the country. Her photographs and her story resulted in a phenomenally successful fundraiser to expand her work, through which the team ended up raising over 2 million dollars within two weeks.
Haya is also the Co Founder of the Documentary Association of Pakistan (DAP), an initiative to promote the art of documentary films in Pakistan. DAP also works closely with documentary filmmakers to provide them with networking and training opportunities by organizing filmmaker meet-ups and training workshops.
She is a Fulbright alumna and an Acumen fellow.
---
Publications
From Terrorism to Television – Dynamics of Media, State, and Society in Pakistan: Author of chapter titled 'The Journey of Pakistan's Oscar-success A Girl in the River: An Insider's Account' for this book published by Routledge India.
ANTYAAJA, Indian Journal of Women and Social Change: Photographed and wrote a photo feature on the experiences of Rohingya women living in Karachi titled Rohingya Women in Karachi.
---
Talks