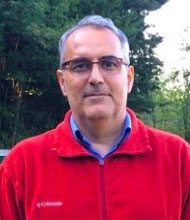 Senior Lecturer, Social Development & Policy
School of Arts, Humanities & Social Sciences
Education
Ph.D. in Economics, University of Massachusetts Amherst. (ABD)
M.A. in Economics, University of Tehran.
B.A. in Economics, University of Tehran.
---
Research Interests
Political economy of innovation and technological change.
Technological change: macroeconomic impacts on income distribution.
Class and its evolution in the United States.
Religious belief and economic doctrine.
---
Biography
Mohammad Moeini Feizabadi has taught at two major public universities in the United States, including University of Massachusetts Amherst, and at Central Connecticut State University; and at three renowned liberal arts colleges, including Bennington College, Bard College at Simon's Rock, and Skidmore College. After almost 12 years of teaching experience both at public universities and at private liberal arts colleges, he has come to the conclusion that he fits very well in those liberal arts colleges where new ideas are welcomed, intellectual challenge is the norm, and critical thinking is in the air.
Feizabadi's academic background is in Economics, both at the Bachelors and at Masters levels. In addition to standard Neo-classical Economics, he has studied, read, researched, taught, and written about four major traditions in Political Economy, including Keynesian Economics, Marxian Political Economy, Austrian School, and New Institutional Economics. That has helped him lay a solid foundation in the fundamentals of economic theory. He emphasizes that while he thoroughly enjoys teaching Economics at introductory level, he always tries to enrich his teaching by benefiting from his ongoing research and other intellectual activities he is engaged in at more advanced levels.
Given the academic environment of Habib University and the intellectual infrastructure there, Feizabadi is looking forward to co-teaching a number of courses, from interdisciplinary perspectives but with an emphasis on the political economy, on economic development of the countries in the region.