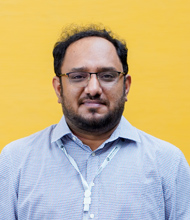 Assistant Professor, Social Development & Policy
School of Arts, Humanities & Social Sciences
Education
Phd. in Political Studies, with a focus on Politics, Development, and Social Change in Contemporary South Asia, (2017 to 2021).
M.Phil in Development Studies (2012 to 2015).
B.Sc. (Hon's) in Agriculture and Resource Economics (2007 to 2011).
---
Courses taught
Introduction to Political Science
Ancient and Medieval Political Theory
Modern Political Theory
Comparative Political Theory
Strategico-Political Dynamics of South Asia
---
Teaching Experience
Forman Christian College University: Assistant Professor (2022 to 2023)
University of Management & Technology Lahore: Assistant Professor (2021 to 2022)
Catholique Lille University, Visiting Faculty (2021 to 2022)
---
Biography
Asad ur Rehman is a dedicated and accomplished academic, renowned for his contributions to the field of Politics, social change, electoral studies and local government devolution in Pakistan. With a profound academic journey that encompasses esteemed institutions, Asad has honed his expertise in political theory, governance, and policy development. Holding a Doctorate in Political Studies, his research has been centered on the intricate dynamics of politics, development, and social change in contemporary Pakistan. His in-depth exploration of these topics has significantly enriched the academic discourse and expanded our understanding of critical issues in the region.
Asad's commitment extends beyond research; he is equally passionate about teaching and mentoring the next generation of scholars. As an Assistant Professor at Forman Christian College University and University of Management and Technology, he imparted his knowledge to both undergraduate and graduate students, covering a diverse range of courses in Political Science. His dedication to academic engagement is evident through his extensive list of publications, presentations at international conferences, and his role in organizing conferences and seminars. Asad ur Rehman is not only a scholar but also a catalyst for intellectual growth and transformation in the realm of Political Science.
---
Publications
Rehman, A. U. (2023).Politics of Socio-Spatial Transformation in Pakistan: Leaders and Constituents in Punjab. Taylor & Francis. Routledge.
Rehman, A.U. (2022). Gaps in Policy Formulation: A case study of Local Government Acts of Punjab and KP provinces. CPDI (https://www.cpdi-pakistan.org/wp-content/uploads/2022/10/Gap-Analysis-in-Policy-Formulation.pdf).
Kakar, Jalal, and Asad ur Rehman. 2022. "China's Engagement with Taliban After American Withdrawal: Implications for Pakistan." Pakistan Journal of Social Research 4 (2): 526–36.
Asad ur Rehman, "Maria Rashid. 2021. Dying to Serve: Militarism, Affect, And the Politics of Sacrifice in the Pakistan Army", South Asia Multidisciplinary Academic Journal [Online], Book Reviews, Online since 25 July 2022, connection on 18 August 2022. URL: http://journals.openedition.org/samaj/8067
Rehman,A. U. (2016). Appraisal of Informal Political Associations and Institutions for ongoing Democratic Decentralization in Punjab (DS Working Paper no.2). Pakistan Institute of Development Economics Islamabad. DOI: 10.13140/RG.2.2.33843.63529
Amin & Rehman, A.U. (2016). I give you Vote What you Give me Back: A Vote Exchange Perspective for Democratic Decentralization in Pakistan. (SDPI Working Paper no. 154). Sustainable Development Policy Institute Pakistan. DOI: 10.13140/RG.2.1.3489.0643