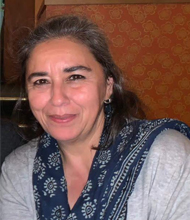 Visiting Associate Professor of Practice, Social Development & Policy
School of Arts, Humanities & Social Sciences
Education
ScD and Master of Science in Global Health and Population Harvard T.H. Chan School of Public Health, Boston, Massachusetts
Bachelor of Arts in Independent Studies (Hunger, Health, and Disease) and Biology Brown University, Providence, Rhode Island
---
Teaching Experience
Acting Head of Social Science Department and Associate Professor, Lahore University of Management Sciences, 2006-2008
---
Biography
Sarah Zaidi is a non-profit executive and an advocate for social justice. Through a resourceful and strategic approach, she has carved a distinguished path in the fields of public health, policy advocacy, and community empowerment. Sarah's extensive expertise lies in designing and implementing comprehensive strategic plans that foster diversity, inclusion, and equity within organizations while championing the human rights of underserved communities.
Throughout her career, Sarah has been a driving force in facilitating positive social change. As a civic-minded professional, she excels in health and policy research, skilfully navigating complex challenges to foster mutually beneficial partnerships within communities. Her collaborative leadership style has consistently exceeded expectations, resulting in the establishment of effective programs and initiatives that address pressing social issues. Co-directing Q-Continuum Consulting, Sarah's work has been marked by a commitment to gender equality, health, and the overall well-being of marginalized populations. Her firm belief in a rights-based approach has led her to engage with United Nations, Global Fund, and US AID processes, ensuring that the voices of those often unheard are given due consideration.
Sarah's influence extends across diverse regions, from Asia to Africa, where she has assessed health policies, provided capacity-building support, and promoted telehealth services for hard to reach and underserved communities. An accomplished author and researcher, Sarah's commitment to knowledge dissemination is evident in her co-edited textbook, "Breaking Down COVID-19," which features contributions from experts across the globe. Her valuable insights and policy briefs on COVID-19 have informed decision-making at both regional and global levels.
Sarah's leadership journey includes her role as the Executive Director of the International Treatment Preparedness Coalition, where she spearheaded a global coalition focused on HIV prevention and treatment access. Her visionary approach resulted in the expansion of the organization's reach and the establishment of partnerships that continue to drive change. While in graduate school, she co-founded, and served as the Science and Managing Director, of the first US-based non-profit organization on economic and social right, the Center for Economic and Social Rights which recently celebrated its 30th anniversary. With a strong academic foundation, Sarah earned her ScD and Master of Science in Global Health and Population from the Harvard T.H. Chan School of Public Health. She holds a Bachelor of Arts in Independent Studies, with a focus on Hunger, Health, and Disease, from Brown University.
---
Publications
Breaking-down COVID-19: A Living Textbook, (online at www.breakingdowncovid19.org :2020) (with editors C.Kriz and N.Imam)
"Differential Treatment: Restricted Access to Newer Antiretrovirals," UN Chronicle, (2012)
"Entrenched Inequity: Healthcare in the United States," The Right to Health, S. Marks et al. eds. (Harvard University Press, 2011) (with J. Carmalt and A. Yamin)
"Millennium Development Goal 6 and the Right to Health: Conflictual or Complementary." International Journal on Human Rights 12 (June 2010)
"Targeting Vulnerability After the October 2005 Earthquake: Evaluating Pakistan's Livelihood Support Grant." Disasters (January 2010) (with A. Kamal and N.B. Ansari)
The Politics of Universal Justice – Human Rights at the UN, (Indiana U. Press: 2009) (with R. Normand)
"Health, Rights and Justice," Ethics and International Affairs (Winter 2004)
"Haiti: Impact of the Coup and Sanctions on Civilians," Political Gain and Civilian Pain, D. Cortright, G. Lopez, L. Minear, and T. Weiss eds. (1997)
Coronavirus – Summary of COVID-19; Vaccines and Treatments; After the First Wave; and weekly updates (2020-2021)
"Transgender Health in Indonesia, Nepal, Thailand, and Vietnam" (2019, Asia Pacific Transgender Network)
"The Roll-out of PrEP and HIV Self-Testing Innovations in Asia" (2018,UNAIDS, WHO, and Unitaid)
"Share It! Advocacy Experience of CBOs." (2018, Asia Catalyst)
"From Barriers to Bridges: Increasing Access to HIV and other health services for Trans people in Asia" (September 2017 for APTN, FHI, and UNAIDS) "Regional Action Plan on HIV" 2017-2021 for SEARO-WHO and UNAIDS (June 2017)
"Understanding Human Rights and Gender Equity for Civil Society on the Country Coordinating Mechanisms" (May 2017, APCASO)
"Asia Regional Consultation on Addressing HIV-related Stigma and Discrimination in Healthcare Setting" (May 2017, UNAIDS and USAID)
"Participatory Functional Review and Stock Take 2.0 of Regional Community Networks" – with Financial Analysis (January 2017, UNAIDS) "Evaluation of Gender Responsive Budgeting in HIV Programming" (December 2016, UN Women)
"Viral Load Testing in Asia, research paper prepared for UNAIDS Regional Meeting on Access to Affordable Medicines, Diagnostics, and Vaccines" (March 2016, UNAIDS)
"Guide to the Global Fund Processes for Transgender Community" (December 2015, APTN)
"Participatory Functional Review and Stock Take of Regional Community Networks Serving Asia and the Pacific" (with A. Doupe, June 2014, UNAIDS)
"Community Access to HIV Treatment, Care and Support Services Study" (CAT-S) in Bangladesh, Indonesia, Laos, Nepal, Pakistan, Philippines, and Viet Nam (November 2013, APN+)