Frequently Asked Questions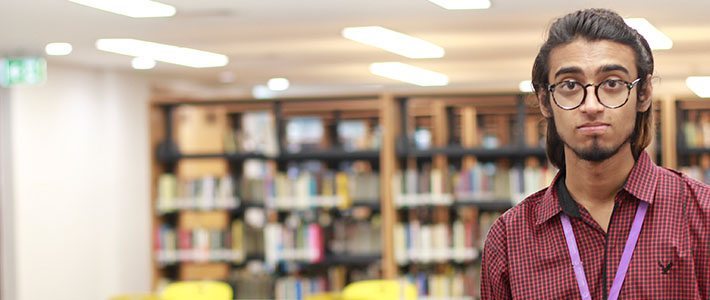 Membership
How do I get a library membership card?
Your University ID card is also your library card. You can borrow the library materials by presenting your card.
What happen if I lose my ID card?
Please immediately report to library@habib.edu.pk and also Student Affairs Department to get a duplicate card. You will be held responsible for any items checked out on your card if you do not inform us that it is missing.

Borrowing
How can I locate library books?
To locate a library book and other resources, use our Online Catalog available at http://catalog.habib.edu.pk/.  You can also contact our reception / support desk staff for learning how to search and locate a book.
How do I borrow library books?
To borrow books take them with your ID Card to the circulation counter the first floor. Our staff would facilitate the lending process.
How many books I can issue from the library?
You can issue general books as per following.
| | | | |
| --- | --- | --- | --- |
| Patron Type | Maximum Books | Duration | Renewal |
| Faculty | 8 | Full Semester | None |
| Students | 4 | One Month | Twice |
| HU Staff | 4 | One Month | Twice |
| Interns | 1 | Two weeks | None |
Can I borrow Course Reserves and Reference books/materials?
There are three kinds of reference and course textbooks/reserves which can be borrowed:
Short term (maximum 4-5 hours per day), to be used in the library.
Weekend Reference (Friday-Sunday). The book/resource must be returned on Monday to prevent fine/late charges (charged @Rs 50/-).
One Week Reference Issuance of reference / course texts on faculty recommendation for a week.
Only one reference book can be checked out for weekend reference.
Consult library staff at circulation counter for further details.
How do I know what I have borrowed?
Using online catalog (http://catalog.habib.edu.pk), you can login using your valid user id and password and check the details. You can also contact library staff at 7105 to know details.
How can I renew borrowed books?
If someone has not reserved or requested the book(s) you have borrowed, you can renew once by asking staff at first floor circulation counter. Books returned after due date will not be renewed for a week.
How do I check the due date(s) of issued books?
Using online catalog (http://catalog.habib.edu.pk) , you can login using your valid user id and password and check the details. You may contact library staff for further assistance.
Can a colleague or staff member borrow books on my behalf?
No.
How can I get a book that is already borrowed?
Books can be reserved. You can get them reserve online by logging into http://catalog.habib.edu.pk. You can also place a request by visiting the library circulation counter on first floor.
Is it necessary to show ID card while returning the books?
No, you can return the library materials without showing the ID card.
Can someone else return my books for me?
Yes, books can be returned by anyone.
What happens if I return a book late?
A fine @Rs. 20 per day will be charged, your borrowing privileges may be suspended till you clear out the dues.
What happens if I lose a book?"
Report it immediately at the circulation counter or email at library@habib.edu.pk so that your overdue fine can be stopped. Then you will be charged three times the current price of the book.
What happens if I damage library materials?
You will be charged recorded cost of the resource/material plus 10% administrative cost and the standard overdue fine up to the date.
I like to use pencils and highlighters for notation. Is this "damage"?
Yes, it is. This damages the books besides causing inconvenience to the next user.
How much fine I have to pay on an overdue book/resource?
@ Rs. 20/- per book per day, on Course Reserve, Rs. 50/- per day.
How do I pay fines?
Fine can be paid at the library offices during 9.00 a.m. to 5.00 p.m.
What happens if I don't pay my fines?
Your borrowing privileges will be suspended till the dues are not cleared. In case the fine amount is accumulated to more than Rs. 500, you may be put on semester hold.

Research Help
How can I get help on any research topics such as finding articles from online databases, how to prepare bibliography and managing citations etc.?
You can register to participate in the workshops offered by library. Check library event calendar for future details. You can also request for one-to-one training by submitting your request.
Which online and digital resources library has subscribed to and how can I access them?
Library has subscribed to full-text online databases electronic journals and e-books, which can be accessed on-campus computers and your laptops, mobile phone without any id or password.
How can I access these online resources?
Browse Library Website > Research Tools and Collections > Journals and Database https://habib.edu.pk/library/research-tools-collections/journal-and-database/
How Can I access Online Resources from out of campus?
You need to connect through HU VPN https://vpn.habib.edu.pk with your HU id and password.
How Can I request electronic copies of an article or chapter not available through HULICs online subscriptions?
You can send your request to library@habib.edu.pk. The resource would be made available within 24 to 48 hours.
How can I view/download electronic books subscribed by Library?
The Library has a growing collection of electronic books, some of which can be downloaded. However, full book download is accessible till 14 days.
What are the specific requirements to read or download an eBook?
Most of e-books are accessible through ProQuest E-book Central for which your need to create a free account and also required to install e-reader software. Many mobile devices, laptops and desktop computers use Adobe Digital Editions (ADE) for reading and downloading e-books.  (See the full list of supported portable devices  for ADE.)
Does the library own and provide videos and other multimedia materials?
No.

Library Spaces
What is information commons?
Library Information Commons is a social learning space. A space for collaborative learning, sharing and idea generation. This is the only space where HU community from different departments can meet and share their ideas with each other.
Information commons cannot be used for celebrating birthdays, parties, farewell or playing games. Student lounge is available for these activities and events.
What places are available in the library for individual / silent study?
On the first floor, Yohsin Hall and the space opposite to discussion room LB-204 are designated areas for individual and silent study.
Are there any group study/meeting spaces available in HU library?
Yes, 7 discussion rooms are available on the first floor of library for group study. The rooms have to be reserved with the help of library staff. A minimum number of three students can reserve a room. A LCD TV and white board is also available. Make sure you have read and understood the guidelines for using discussion rooms. The discussion rooms are booked for 2 hours (max) and can be renewed based on the availability and if there are no other reservation requests in queue.
What are the ways to reserve a group study / discussion room?
The rooms are booked based on first come first serve basis through front desk on first floor. Since rooms have different seating capacity, the front desk staff decides and allocates discussion rooms. The library staff deserves the right to cancel room requests or ask students to leave the room in case of non-compliance.

Other Services and Facilities
I want to configure my personal digital device (smartphone, laptop, ipad etc.) to use Wifi, what should it do?
You have to register your device first. Contact IT support/help Desk on library ground floor for assistance.
I want to install a software into my laptop? Where should I seek support?
Contact IT support/help Desk on library ground floor for assistance. You can also call 7112 or 4224 for logging your request and get assistance.
Does the library have cellphone charging devices?
HU library has a cell phone charging station at both floors.
Can I watch movies or listen to music on library Desktop computers?
Yes, however plug in your headphones so others may not get disturbed. We encourage you to watch course related movies and documentaries.
Can I play games on library desktops?
No.
What is the procedure for saving my personal and work related data on library desktops?
Please avoid to save files/folders on the hard drive of library computers; use OneDrive facility which is associated with your account. Contact library IT support desk for further information.
How can I print my assignments or documents?
You can purchase a scratch card from Habib Dukaan and use it for printing and photocopying.
Which devices / accessories library lends?
Library lends wireless mouse and keyboards.

General Questions
What is the process of bringing a visitor or family member to library?
You are welcome to bring visitors or family members (teenagers and adults), to the library and information commons. The discussions, meetings and serving visitors should be done at the ground floor information commons only.
Is library open for general public?
No.