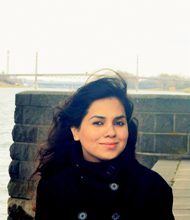 Lecturer, Social Development and Policy
School Of Arts, Humanities & Social Sciences
Education
M.A. in Globalisation and Multinational Corporations, SOAS, University of London, London. 2015-16
Beahrs Environmental Leadership Programme (ELP), University of California, Berkeley. 2015
B.Sc in Economics and Management, University of London International Programme, Islamabad. 2007-10
---
Biography
Tajreen Midhat is a lecturer in Social Development and Policy at Habib University. She holds a Masters degree in Globalisation and Multinational Corporations from the Centre of International Studies and Diplomacy (CISD) at SOAS, University of London. Her research interests include development and environmentalism, conflict and development, and environmental security.
Prior to entering the academia, Tajreen was involved in the implementation of various sustainable community development projects in rural areas of Sindh as part of Corporate Social Responsibility programme of a multinational organization within the Oil and Gas sector. Tajreen has extensive experience with regulatory frameworks directed towards Corporate Social Responsibility in the Oil and Gas sector in Pakistan.
Tajreen is an alumna of the Beahrs Environmental Leadership Program at UC Berkeley on partial scholarship; a program designed for mid-career professionals on environmental policy management and leadership. She is the official representative of the Council of International Fellowship (CIF) in Pakistan. Tajreen is the first Pakistani to have participated in Council of International Fellowship (CIF) Exchange Programme in the Netherlands in the recent past.
She has also contributed to Gender Equality in Public Administration in Pakistan (GEPA), a research case study published by the United Nations Development Programme (UNDP).
Tajreen has also taught undergraduate students of the University of London International Programme in Islamabad.