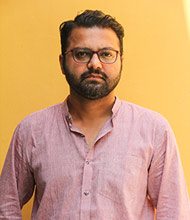 Associate Professor, Social Development and Policy
School Of Arts, Humanities & Social Sciences
Education
Ph.D. in Anthropology, University of Texas (Austin), USA.
M.A. in Political Science, University of Victoria, British Columbia, Canada.
B.A. in Political Science, University of Central Oklahoma, USA.
---
Selected Courses
What is Modernity?
Hikma: The History of Islamic Thought
Perspectives in Social and Cultural Anthropology
Development and Social Change
Silent Stories of Pakistan
Sacred Geographies
Cultures of Greed
Anthropology of Trade
Research Interests
Self and subjectivity, and interiority
Phenomenology, meditation, and experiential knowledge
Money and markets
Space and cities
---
Biography
Dr. Noman Baig is an Assistant Professor in Arts, Humanities, and Social Sciences. He finished his Ph.D. in Anthropology at the University of Texas (Austin).
The doctoral ethnographic research was conducted in Pakistan largest wholesale bazaar, Bolton Market, in Karachi, (2011-2013), and concentrated largely on customary monetary networks.  The dissertation focuses on the shaping of merchants' subjectivity in Karachi's contemporary marketplace. It does this by placing human experience within the matrix of the cosmological value system, driven to a large extent by Islamic moral and ethical principles, as well as everyday material conditions, determined by economic activity. In doing so, it brings together the material and spiritual in conversation with each other. This dissertation particularly focuses on the convergence of Sufi moral discourse and meditative practices of zikr/dhikr with globalized technologies of finance capitalism. It seeks to answer: How do the two seemingly different practices converge? Modern financial practices aim to discipline merchants into becoming economic subjects accumulating capital. In contrast, the spiritual tradition of Sufi techniques shapes this excessive desire for accumulating, through the meditation (zikr/dhikr), molding the merchants into charitable subjects. Being a self-maximizing as well as a self-annihilating individual in the market, the merchant is able to contain the larger structuring of money and moral universes in everyday life. The experience generated at the threshold of accumulation and charity, Dr Noman argues, gives rise to an affirmative subjectivity, which perceives the unity of existence the way it is.
---
Selected Publications
"Disruptive Transformation: Digitising Financial Practices in Pakistan," International Journal of Asia Pacific Studies, November 2021. (Link)
"The Pen's Screech: Muslim Spiritual Practice of Arabic Calligraphy," Hazine, October 2021. (Link)
"Phenomenology of Breath: A Meditation on Breathing in the Time of COVID-19," SUFI Journal of Mystical Philosophy and Practice, Issue 101. (Link)
"The Politics of Fiscal Sentiments in Pakistan," Hot spots, Cultural Anthropology, March 2021(Link)
"Its gait is too brisk:" Money Mobility in Karachi's Foreign Exchange Market, Journal of Cultural Economy, April 25th, 2019
Aspiring Present: Breathing Life into the 'City of Death,' in Van der Veer, Peter, ed. Handbook of Religion and the Asian City: Aspiration and Urbanization in the Twenty-First Century. University of California Press, 2015.
"Mediating Belief and Senses: Dawat-e-Islami's Emerging Madina of Visuality," Visual Pilgrim 2013.
"Financial Inclusion: Integrating the Poor into the World Economy – A Look at Migrant Laborers in a Karachi Marketplace and How They Move Money" (Link)
"Reflections on the "Financial Inclusion of the Poor," workshop in Karachi (Part One): Decolonizing Financial Inclusion" (Link)
"Reflections on the "Financial Inclusion of the Poor," workshop in Karachi (Part Two): Decolonizing Financial Inclusion" (Link)
"Afterlife of Machines," Hum Khayal, Summer 2013 (link)
"Mizaaj of the City," Hum Khayal, Spring 2012 (Link)