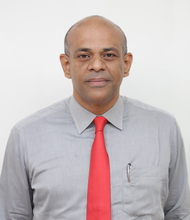 Program Director and Assistant Professor,
Comparative Humanities
School Of Arts, Humanities & Social Sciences
Education
Ph.D. in Philosophy, Texas A&M University, College Station, TX, USA.
M.E. in Civil Engineering, Texas A&M University, College Station, TX, USA.
B.E. in Civil Engineering, N.E.D University of Engineering and Technology, Karachi, Pakistan.
---
Research Interests
Science, Technology, and Society Studies
Ethics in Engineering, Computing, and IT
Philosophy of Technology
History of Western Philosophy
Philosophy in Art, Literature, and Film
Philosophy and Tragedy
Social and Political Philosophy
---
Biography
A native of Karachi, Dr. Haris returned home in summer 2015 after 16 years abroad during which he completed his graduate studies at Texas A&M University and subsequently held faculty appointments at Texas A&M University in Qatar , the University of North Carolina at Charlotte, Alfaisal University (in Riyadh KSA) and Dhofar University (in Salalah Oman).
At Habib University, Dr. Haris is currently responsible for developing and teaching university electives in Introduction to Philosophy (fall 2015) and Tragic Philosophy (spring 2016) while also delivering instruction in team-taught courses in the Liberal Core, namely Rhetoric & Communication (fall 2015) and What is Modernity? (spring 2016). With combined expertise in philosophy and engineering, Dr. Haris is passionate about exploring the ethical, social, cultural and environmental implications of scientific and technological practice, and he has taught extensively in areas such as Science, Technology, and Society Studies; Engineering Ethics; Biomedical Ethics; Ethics of Emerging Technologies; and Philosophy of Technology. Dr. Haris' niche area of expertise is philosophy and tragedy where he employs a dialectical conception of the tragic to explore themes of incommensurability, crisis and strife in politics, culture, ethics, and technology. He is particularly interested in using the idea of the tragic as philosophical lens for understanding and explaining problems of irreconcilable differences, failure of cultural institutions, and the crisis of ethical citizenship and constitutional identity formation in Pakistan and the broader "Muslim" world.