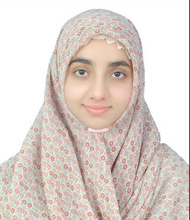 Dean's Fellow, Comparative Humanities
School of Arts, Humanities & Social Sciences
Education
M Phil, Area Study Centre for Europe, University of Karachi, Jan 2017 – Jan 2022
Master of Arts in International Relations, University of Karachi, Department of International Relations, Jan 2015 – Dec 2016
Bachelor of Arts in Mass Communications, University of Karachi, Department of Mass Communications, Jan 2013 – Dec 2014
---
Courses
Rhetoric and Communication
What is Modernity?
---
Teaching Experience
Associate Project Director – South Asia Research Institute for Minorities, 2022 to 2023
Visiting Faculty – Department of International Relations, University of Karachi, 2018 to 2019
---
Biography
Sumbul Yousuf is a passionate researcher with an excellent academic record and a strong aspiration for doctoral research. She enjoys engaging in meaningful research inquiries, participating in research discussions, and undertaking teaching activities. Her primary research interests lie in the areas of international politics, and theories of international politics specifically neorealist systems theory. Her M Phil research provided an interpretation of the post-cold war European integration process through the neorealist systems theory.
---
Publications
Edited "Unfolding Caste The Dynamics of Casteism and Caste-based Discrimination: Panel Discussion Proceedings," July 2022.
Co-authored "Comparative Analysis of Political Paradigms in the eras of Mikhail Gorbachev and Boris Yeltsin," Pakistan Journal of International Affairs, 2021.
Book Review of "Political Tribes: Group Instinct and the Fate of Nations" by Amy Chua, Journal of