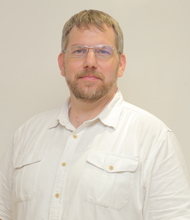 Program Director & Associate Professor, Social Development & Policy
School of Arts, Humanities & Social Sciences
Education
Ph.D. in South Asian Studies, University of Pennsylvania, USA.
M.A. in Ethnomusicology, Wesleyan University, USA.
B.A. in History and Music, Hampshire College, USA.
---
Selected Courses Taught
Catastrophe and Culture
Kabhi Paani Kabhi Pyaas
Anthropologies of Possibility
The Ethnographic Eye/I
Empires of Paper: Anthropology of Bureaucracy in South Asia
Research Interests
Anthropology of Disaster
Water
Anthropology of Institutions and Bureaucracy
Music
---
Biography
Aaron Mulvany came to Karachi in 2012 to join Habib University in its earliest stages. As part of its founding faculty, Dr. Mulvany made significant contributions to the design and implementation of the Liberal Core curriculum and the Social Develop and Policy program. Having developed an interest in bureaucratic structures while conducting research on flood disasters in South India, Dr. Mulvany was tasked with establishing the Office of Academic Systems in 2014. In 2015 he was assigned the additional task of setting up the Office of Academic Performance, in which role he used his training in ethnography to establish systems for student support that articulated and responded to the specific needs of Pakistani students. A dedicated pedagogue, Dr. Mulvany has spent the last seven years contributing to the structures, systems and curricula that serve all Habib Students. For the past three years Dr. Mulvany has been studying the historical development of the Balochi Banjo and the gharana of Gul Muhammad, the instrument's inventor. Studying both classical and Balochi traditions, Dr. Mulvany has played across Karachi and is only the second banjo player to perform at the All Pakistan Music Conference. His current research interests include the impacts of the internet and social media technologies on classical music in Pakistan.
---
Selected Publications
"Policy Legends and Water Policy in the Union Territory of Puducherry," Water History 6(2). DOI 10.1007/s12685-013-0081-3
"High Dudgeon: Crafting Affective Narratives from (semi-) Official Texts," RMN Newsletter 7: Limited Sources, Boundless Possibilities, 85-93.
"From Resilience to Reliance: State Disruption of Traditional Flood Mitigation Strategies," Narodna Umjetnost 49(1): 23-40.
"The Colonial Foundations of Contemporary Flood Response in the Union Territory of Pondicherry," Exploring History 3(1): 25-48.
---
View Dr. Mulvany's Curriculum Vitae