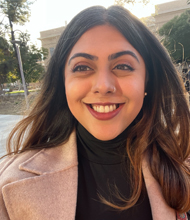 Dean's Fellow, Social Development & Policy
School Of Arts, Humanities & Social Sciences
Education:
MUEP Urban and Environmental Planning (Fulbright Scholarship), Arizona State University, USA (2020-2022)
BSc (Hons) Social Development and Policy, Habib University, Pakistan (2014-2018)
---
Teaching Experience:
Teacher's Assistant, School of Geographical Sciences and Urban Planning, Arizona State University, USA
Graduate Research Assistant, Arizona State University, USA
---
Courses Taught:
Sustainable Cities
Public Policy I
Design Your Habib Experience
---
Research Interests:
Urban and Environmental Planning
Urban Design
Spatial Analysis of Social Inequity
Gender and Sexuality
Science, Technology, and Society
Digital Ethics, Rights, and Governance
Transportation and Mobility
Data, Privacy and Surveillance, and Technology Infrastructure
Smart and Sustainable Cities
Affordable Housing
---
Biography:
Sana Rizwan Gondal is a Fulbright Scholar and has a Master's degree in Urban and Environmental Planning (2022) from Arizona State University (MUEP). Sana graduated from ASU's School of Geographical Sciences and Urban Planning as the Outstanding Graduate Student. This is the highest accolade of the program and is awarded by the official licensing body of urban planners in the US, the American Planning Association. She graduated with a perfect CGPA and as the leader of multiple graduate student organizations.
During her Masters, Sana worked on a collaborative international research project funded by the Just Jobs Network (JJN), which explores the relationship between gender and the gig economy in Thailand, Cambodia, and Pakistan. Her thesis was a collaboration on the analysis of equitable transit-oriented development in South Phoenix, for the City of Phoenix to utilize in their ongoing efforts for sustainable and equitable development in the city. Sana also worked in Phoenix City Hall in the Office of the Mayor of Phoenix where she interacted directly with constituents and local government organizations.
Sana has industry experience with human centered service design and marketing and has worked with the House of Habib, Toyota-IMC, and the Designist since recieving her undergraduate degree in Social Development and Policy from Habib University. She is also an advocate for social equity and devotes her time to causes that strive for a just world.
---
Selected Awards and Accomplishments
Habib University Dean's Fellowship (2022)
Outstanding Graduate, American Planning Association, USA (2022)
Honorable Mention, ASU Institute for Social Science Research, USA (2022)
Fulbright Scholarship (2020)
Advocacy for Social Change, Habib University Graduate Awards, Pakistan (2018)
Best Paper Award, Saeeda Waheed Gender Initiative Colloquium, LUMS, Pakistan (2018)
UGRAD Scholarship (2017)
Stanford University International Honors Program (2016)
---
Selected Publications
Rizwan, Sana (2020). Stolen Images and Violations of Privacy: How Women in Pakistan Navigate Digital Spaces. Digital Rights Foundation. Read
Rizwan, Sana (2018). The Masculinities of Shi'ite Men in Karachi, Pakistan. Saeeda Waheed Gender Initiative [Conference]. Read