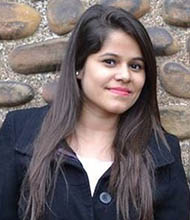 Lecturer,
Comparative Humanities
School Of Arts, Humanities & Social Sciences
Education
MA-Islamic Intellectual History (Islamic Societies and Cultures), School of Oriental and African Studies, University of London. (2018-2019)
The Graduate Program in Islamic Studies and Humanities (GPISH), This Institute of Ismaili Studies, London, UK (2016-2018)
BSc in Nursing, Aga Khan University (2010-2014)
---
Research Interests
Arabic Philosophy
Islamic Theology
Islamic Political and Intellectual History(9th- 12th century)
---
Courses Taught
Hikma (History of Islamic Thought)
Making of Modern World Religions
Medieval Islamic Philosophy
Pakistan in Modern South Asia
Rhetoric and Communication
---
Biography
Kainat Jalaluddin is a Lecturer in the School of Arts, Humanities, and Social Sciences at Habib University. She did her MA in Islamic Intellectual History from the School of Oriental and African Studies (SOAS), University of London. Her MA dissertation titled Al-Ghazali's inconsistent theology in refuting Ismailis: Revisiting Fadai'h al-Batiniyya broadly focused on the debate of reason and authority in Medieval Islam. It particularly looked at the Avicennan and Aristotelian influences on al-Ghazali's arguments against Ismailis and the kind of syllogistic methods both al-Ghazali and the Ismailis used with different theological objectives. The dissertation argued that al-Ghazali adopted a selective theology against Ismailis by using Avicennan arguments which he otherwise strongly critiques in his works such as Tahafut al Falasifa. Before MA, she did a Postgraduate Diploma in Ismail Studies and Humanities (GPISH) from the Institute of Ismailis Studies London. Her dissertation titled Changing approaches towards the study of Islamic Philosophy in Pakistan: A case study of Hikma course taught at Habib University' looked at the content of Philosophy courses, teaching methods used, along with the reception of such courses amongst students.
The research highlighted the significance of hermeneutical sensitivity and the exposure of students to diverse philosophical/theological positions, debates, and disagreements within Islamic Intellectual tradition which were valued and celebrated. This seemed to have made students more tolerant of diverse interpretations within Islam. Her current interest lies in the post-Avicennian period specifically at the fusion of Falsafa and Kalam in the debates of Divine Existence and attributes, cosmology, and causation. She is also interested in exploring the influence of Avicennan tradition on the positions of various theologians such as al-Ghazali, Fakhruddin al-Razi, Shahrastani, and Nasiruddin al-Tusi. Besides philosophy, she is also interested in classical Arabic historiography mainly translating and interpreting historical accounts from historians such as al-Baladhuri, Tabari, and Ibn-Athir on the theme of power and politics during the first few centuries of Islam.