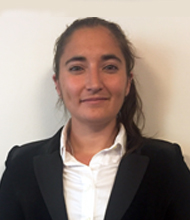 Assistant Professor, Comparative Liberal Studies
School Of Arts, Humanities & Social Sciences
Education
2018. Ph.D. University of Toronto, Department for the Study of Religion.
2010. MA. McMaster University, Religious Studies.
2008. Matriculation Certificate. The Institute for the Teaching of Arabic to Foreigners, Damascus, Syria.
2006. BA. Earlham College. Double major in Philosophy and Sociology/Anthropology, College Honors.
---
Biography
Dr. Jessica L. Radin was born in Boston, Massachusetts, and spent much of her childhood and young adulthood traveling with her news correspondent father. The descendant of a notable Quaker, she attended the Quaker-founded Earlham College, where she completed a double major in Philosophy and Sociology/Anthropology with College Honors in 2006. Two weeks later, she departed for Damascus, where she spent two years studying Arabic with a view towards graduate work in Arabic philosophy. Dr. Radin applied and was accepted into the MA program in Religious Studies at McMaster University (Hamilton, Canada), where she completed a thesis examining Leo Strauss' analysis of Ibn Rushd in 2010. Dr. Radin then embarked on a Ph.D. at the University of Toronto, completing the program with a dissertation entitled "Excavating the Imagination: The Arabic Afterlife of Aristotle's Phantasia," focusing on how the emphasis on rhetoric and speech in Arabic philosophy influenced the Arabic interpretation of what Aristotle had to say about the imagination.
Over the course of her Ph.D. program, Dr. Radin has been involved in a number of different initiatives, including working as a journal editor for an internal University journal and Review Editor for the Bulletin for the Syrian Studies Association. In 2016, Dr. Radin was hired on contract by the European Asylum Support Organization (EASO) and worked for two months in the Moria deportation camp on the Greek island of Lesvos, interpreting asylum admissibility interviews for Syrian asylum seekers who arrived on the island by boat. The following year Dr. Radin worked as an interviewer and translator for a project out of the Sociology Department at the University of Toronto, funded by SSRHC and the Canadian Refugee Council, which investigated the stresses and situation of Syrian newcomer women in Canada with children in the public school system. Dr. Radin has been involved in interpretation and cultural assistance for both government and privately-sponsored Syrian refugees since 2012.
---
Publications
Chapters in a Book
2018. "The Taylored Liberal: Leo Strauss, Natural Right, and Shifting Contexts," in Contemporary Conversations with Leo Strauss, ed. Jade Schiff and Jeffrey Bernstein. SUNY Press. (Under Contract)
Journal Article
2015. "Between the Messianic Era and the Text: Historicism and Exegetical Materialism in Maimonides," Journal of Idealistic Studies. Special volume, Leo Strauss and the Philosophy of History. Ed. Jeffrey Bernstein.
Review Essays
2018. "On Theory (as Pedagogy) in a Time of Excess: Asking Questions in 2017." Bulletin of the North American Association for the Study of Religion. Forthcoming
2018. "The History of the Present: Scholarship on Syrian- Turkish relations." Mediterranean Politics
2016. "Whose Freedom? Engaging The Politics of Religious Freedom." Middle East Law and Governance 8 (2016) 1-14
Reviews
2012. Review: Dreams that Matter: Egyptian Landscapes of the Imagination (2010) by Amira Mittermaier in Arc: Journal of the Faculty of Religious Studies, McGill University.
2011. Review, Long Commentary on the De anima of Aristotle, by Averroes (Ibn Rushd). Trans. R. C. Taylor and T-A. Druart. Yale University Press, 2009. In Symposia.
---
Media and Online Articles
---
Personal Website