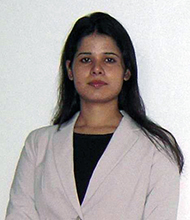 Lecturer, Social Development & Policy
School Of Arts, Humanities & Social Sciences
Education
PhD in Economics, University of Massachusetts Amherst, USA, 2015 – present.
Masters in Economics, University of Massachusetts Amherst, USA, 2019.
Masters in Applied Economics, Hunan University, China, 2014.
Bachelor of Business Administration (BBA Hon's), Institute of Business Administration Karachi (IBA), Pakistan, 2010.
---
Conferences
2019:
Institute of New Economic Thinking, YSI Gender Working Group Workshop presentation, June 26, Glasgow, Scotland.
2019:
28th annual conference of International Association for Feminist Economics, June 27-29, Glasgow, Scotland.
2018:
44th Annual Conference, Eastern Economic Association, March 1-4, Boston, USA.
2016:
19th Annual Conference on Global Economic Analysis World Bank, June 15-17, Washington D.C., USA.
2014:
Chinese Economic Association (CEA UK/Europe) Annual Conference, April 19-20, Changsha, China.
2013:
Forum for Interdisciplinary and Integrative Studies (FIIS) conference, December 18-19, Langkawi, Malaysia.
Awards & Honors
2018:
Solomon Barkin Graduate Fellowship Fund Award.
2018:
University of Massachusetts Amherst Dissertation Fieldwork Grant.
2018:
University of Massachusetts Amherst Department of Economics Chair's Research Fellowship Award.
2015:
US Fulbright Scholarship for PhD in Economics at UMass Amherst, USA.
2011:
Chinese Government Scholarship by China Scholarship Council for Masters in Economics.
2006-2010:
HEC-Japanese Merit Scholarship for BBA (Hon's) at IBA, Karachi.
---
Biography
Sana Khalil is a Fulbright doctoral scholar at the University of Massachusetts (UMass) Amherst, USA. She has a Master's degree in Economics from UMass Amherst and is currently pursuing PhD in Economics there. Her research areas include Labor Economics, Development Economics, and Feminist Economics. Her research interests have revolved around gender issues such as differences in women and men's labor market outcomes, both in developing and developed countries. Her research work focuses on both empirical methods and theoretical frameworks. In her doctoral dissertation, she is investigating differentials in labor market outcomes for women and socially disadvantaged groups in Pakistan. She examines bottlenecks in Pakistan's labor market, both supply-side (e.g., patriarchal norms) and demand-side (e.g., discrimination in hiring), and their role in setting off a perpetual poverty trap for the disadvantaged. In collaboration with Professor James Heintz at the University of Massachusetts Amherst, she is working on a project on employment discrimination in high-paid and high-skilled jobs in Pakistan's information technology sector. In December 2018, Sana received Barkin Award from the Department of Economics at UMass Amherst for her research work aimed at improving the lives and working conditions of the working class. Sana did her masters in Economics, focusing on labor and development economics, from Hunan University China on Chinese Government Scholarship Program. In collaboration with professor Jingjing Yang, she worked on Social Science Projects examining China's economic transition, particularly the likelihood of being trapped in a middle-income trap. This work has been presented at conferences in China and Malaysia and published in peer-reviewed journals. Sana is a graduate of Institute of Business Administration (IBA), Karachi where she studied Bachelor in Business Administration (BBA), morning program at the main campus. She majored in finance. She served as a teaching assistant and an instructor at the National Talent Hunt Program at IBA Karachi in 2010. She was also a participant of Telenor Brand Ambassador Program of 2009.
---
Selected Publications
Books
Khalil, Sana. "Re-analyzing the gender-specific effects of the great depression." The Political Economy of International Finance in an Age of Inequality: Soft Currencies, Hard Landings, edited by Gerald A. Epstein. Edward Elgar Publishing, 2018, pp. 47-67.
Papers
Khalil, Sana and Heintz, James. "Discrimination in hiring based on gender and social class: a field experiment from Pakistan's labor market." Paper presented at Young Scholars Initiative (YSI) Workshop at the Glasgow Caledonian University, Scotland, June 26th, 2019.
Journals
Yang, Jingjing and Khalil, Sana. "Do in- novation dimensions matter in China's cross-regional income differences?" Journal of Chinese Economic and Business Studies 13. 1(2015):71-85.
Yang, Jingjing and Khalil, Sana. "Explaining China's Economic Performance from the Perspective of Non-Conventional Drivers." Business Review 8.2(2014): 12-29.
Case study
Yang, Jingjing and Khalil, Sana. "Remedying the Problem of Middle-Income Trap: Case of China." The Social Economy: Poverty Alleviation and Social Wellbeing, Journal of Ethics, Economics, Finance, and Society 1. 1(2016): 1-22.
---
Express Tribune Blog