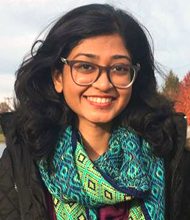 Lecturer, Arzu Program for Languages and Literature
School Of Arts, Humanities & Social Sciences
Education
M.A. in Comparative Literature, State University of New York, USA.
Recipient of Fulbright Scholarship (2015-2017).
B.A. in English Literature, University of Karachi, Pakistan.
---
Scholarly Conference Presentations
"Diasporic Desire for Home and Belonging in South Asian Partition Fiction," HSGA Interdisciplinary Conference, Stony Brook University, Stony Brook, NY April 2017.
"The Post-Migratory Condition: Postcolonial Cosmopolitanism in Kamila Shamsie's Burnt Shadows," 26th Annual British Commonwealth and Postcolonial Studies Conference, Savannah, GA February 2017.
Research Interests
Comparative literature and theory;
Postcolonial literature and theory;
South Asian Partition literature in Urdu and English;
Diasporic studies;
Gender and violence in literature;
Representation of war and trauma in literature.
---
Biography
Nudrat Kamal is a Lecturer in the Arzu Program for Literature and Languages at Habib University. Her areas of research are comparative literature, postcolonial literature and theory, diasporic fiction, and representations of gender and trauma in literature. She received her Bachelor's degree in English Literature from the University of Karachi, and her Master's degree in Comparative Literature from the State University of New York, Stony Brook, where she was a Fulbright scholar. Her Master's thesis was titled "Diasporas at Home: Partition Fiction as Diasporic Literature." In it, she utilized diasporic aesthetics to explore the Urdu and Anglophone literature on the South Asian Partition of 1947 in order to move beyond the framework of nation-building that such fiction is usually read within. Ms. Kamal has worked in an editorial capacity for Newsline and The Express Tribune, and her writings have been published in Dawn, The Express Tribune, The Friday Times, Newsline and Truthdig. Her current research interests are in exploring representations of gendered trauma in the literature on the 1971 Bangladesh Liberation War.
---
Selected Publications
"Book Review: The Djinn Falls in Love and Other Stories ed. Mahvesh Murad and Jared Shurin" Dawn, October 2017
"Book Review: Kamila Shamsie's Home Fire" Newsline, September 2017
"Book Review: Sami Shah's Boy of Fire and Earth" The Friday Times, September 2017
"Subversion of Muslim Stereotypes in Leila Aboulela's Work" Newsline April 2016
"Sexism in the Literary World" The Express Tribune March 23 2015
"Book Review: Rafia Zakaria's The Upstairs Wife" The Express Tribune May 10 2015
"Book Review: Robert Galbraith's The Silkworm" Newsline July 2014
"Book Review: Rukhsana Ahmed's The Gatekeeper's Wife" Newsline April 2014
"Book Review: Bilal Tanweer's The Scatter Here is Too Great" Newsline February 2014
"Book Review: Chimamanda Ngozi Adichie's Americanah" Newsline December 2013