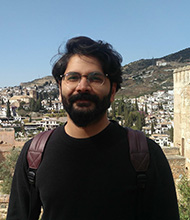 Dean's Fellow & Lecturer,
Comparative Humanities
School Of Arts, Humanities & Social Sciences
Education
M.A. Muslim Cultures: Institute for the Study of Muslim Civilizations
, Aga Khan University, UK
BSc Applied Accounting
, Oxford Brookes University, UK
Research Interests
Sufism
Reformist Movements in South Asia
Political Islam
---
Biography
Muzammil Patel is a Dean's Fellow and Lecturer in the Comparative Humanities Department. He is interested in the political history and intellectual thought of South Asia especially the intersection of Sufism and modern reformist movements in colonial India. Muzammil's interest was sparked by his career in Islamic Banking of around 5 years, after which he went on to obtain a Masters in Muslim Cultures at the Institute for the Study of Muslim Civilizations, London. His Master's dissertation "Neo-Barelviyat: The Political Surge of Barelvis in Pakistan", explored the resurgence of contemporary Barelvism in Pakistan with respect to intra-sectarianism, role of the state and reformation of their popular Sufi identity. Given his exemplary thesis work, Muzammil graduated the program with a Great Distinction.