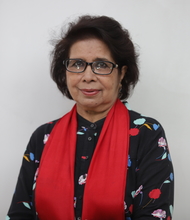 Visiting Associate Professor of Practice,
Comparative Humanities
School Of Arts, Humanities & Social Sciences
Biography
Dr. Sahar Imdad Shah was born to a bureaucrat father and a teacher mother in a very learned family. She inherited all the good faculties from both, and blended them with her own persona.
She did her M.A. and PhD from University of Sindh, Jamshoro. Before joining Habib University, she worked as a Professor at University of Sindh, Jamshoro. As a modern poet, modern Sindhi poetry is her domain, but she has equal mastery of Shah Abdul Latif Bhittai's art and craft.
Dr. Shah is an acclaimed research scholar. She has attended more than 80 conferences, seminars, workshops and presented her research papers on various topics of Sindhi literature, especially on Shah Abdul Latif Bhittai, Sachal, Sami, Sangi, Qaleech and other modern Sindhi poets. Her in-depth study, analytical style, creative faculties and command on languages makes her research papers creative and original. Her PhD thesis: "Modern Sindhi Poetry- a new Classic (1955-1975)" introduced a new theory to the modern aspects of Sindhi poetry and its impact has been intense.
Dr. Shah started writing poetry at the age of 12. She started writing articles and stories during her college life. She was editor of two magazines and has worked as a journalist and written columns for various newspapers. She writes in Urdu and English as well. She has eight books on her credit.
She worked for radio and television in her teens. Her poetry is unique in its diction, rhyme, rhythm, and style. Her poetry and short stories were regularly published in various Sindhi and Urdu magazines.
Dr. Shah has received many awards and crests from local literary, social, and educational organizations. In recognition of her services towards literature, Government of Pakistan bestowed upon her 'Tamgha-e-Imtiaz' in 2009.