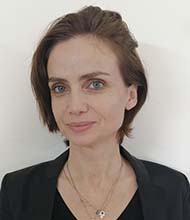 Visiting Associate Professor,
Comparative Humanities
School of Arts, Humanities & Social Sciences
Education
2004-2009: Ph.D. Program in Comparative Political Science, Institute of Political Studies (Sciences Po), Aix-en-Provence, France.
2003-2004: Master's Degree in Comparative Political Science, Institute of Political Studies, Aix-en-Provence, France.
2000-2001: Third year Diploma, Institute of Political Studies.
1995-1997: Preparatory School (Classe préparatoire littéraire hypokhâgne-khâgne), Aix. Equivalence : BA in philosophy.
---
Teaching Experience
2014-2020: Assistant Professor in Sociology, Institute of Political Studies (Sciences Po), Aix-en-Provence, France.
2011-2014: Post-Doctoral Researcher, Institute of Political Studies (Sciences Po), Aix-en-Provence, France.
2009-2011: Junior Lecturer, Institute of Political Studies, Aix-en-Provence, France.
---
Selected Courses Taught
Political Science
Comparative Politics
Political Sociology
Anthropology
Introduction to Sociology
Major Trends in Humanities
Geopolitics of the Indian subcontinent
Religion and Globalization
Islam and Globalization
New Religious Movements and Contemporary Modes of Beliefs
Political Systems and Society
Comparative Mysticisms and Spirituality
Science, Spirituality and Philosophy
Pakistan and Modern South East Asia
---
Biography
Alix Philippon had the opportunity to accomplish a one-year internship at the Alliance Française of Peshawar as part of her university curriculum in 1999. The discovery of Pakistan (and Afghanistan) determined her subsequent trajectory, as she decided to specialize on this part of the world and embark on an academic career. In 2004, she completed her Master's in Comparative Politics after writing her MA thesis on a Pakistani Barelwi organization (Minhaj-ul Quran). A three-year scholarship allowed her to do a PhD in Political Science on Sufi politics. Her main fieldwork was achieved in the Pakistani Punjab but her research led her to visit Morocco, Bosnia, Turkey, Iran and even India to give comparative depth to her study. Besides doing research on the multiple political dimensions of Sufism (through the study of Barelwi organizations, government religious policies, the nationalization of shrines or management of pilgrimages), she also started studying a transnational Sufi Order between the city of Lahore and Europe. She defended her PhD in 2009. She was first hired as a junior Lecturer and researcher, then as a post-doc scholar and finally became an Assistant Professor in Sociology at Science Po Aix in 2014. In 2016, she started working on Indonesia and even Saudi Arabia (along with a colleague, Helene Thiollet) to put her findings into perspective. Between 2014 and 2018, along with the historians Michel Boivin and Stephane Dudoignon as well as the sociologist Mariam Abou Zahab, she organized a monthly seminar at IISMM, EHESS in Paris on the issues of politics and authority in contemporary Sufism. Besides her academic work, she has also developed an interest in visual ethnography. In 2001, she directed a documentary with Faizaan Peerzada (Rafi Peer Theater Workshop, Lahore) entitled Laatoo, on the state of dance in Pakistan, and has exhibited her photographs in several exhibitions. Her work at Habib will allow her to deepen her bond with Pakistan and develop new research interests in Sindh.
---
Selected Publications in English
-« Positive branding and soft power : the promotion of Sufism in the War on Terror », Brookings Institution and Georgetown University, Berkley Center for religion, peace and world affairs, Washington, part of a series of analysis on the Geopolitics of religious soft power : https://www.brookings.edu/blog/order-from-chaos/2018/12/13/positive-branding-and-soft-power-the-promotion-of-sufism-in-the-war-on-terror/ and https://berkleycenter.georgetown.edu/responses/positive-branding-and-soft-power-the-promotion-of-sufism-in-the-war-on-terror
-« Sufism, Islamism, radicalism. The many faces of the Barelwi movement in Pakistan", Identity, Culture & Politics: an Afro-Asian Dialogue vol.15 (1), July 2014.
-« A sublime, yet disputed, object of political ideology ? Sufism in Pakistan at the crossroads », Journal of commonwealth and comparative politics, vol. 52 (2), avril 2014, p.271-292.
-« The role of Sufism in the identity construction, mobilization and political activism of the Barelwi movement in Pakistan », Partecipazione e conflitto 7(1), mars 2014, consulter en ligne : http://siba-ese.unisalento.it/index.php/paco/index
-« The 'urs of the patron saint of Lahore : national popular festival and sacred union between Pakistani State and society?", Social Compass, September 2012, p.289-297.
Chapters in Scientific Books
-« Sufi politics and the 'War on Terror' in Pakistan : Looking for an alternative to radical Islamism ? », in Katherine Pratt Ewing and Rosemary Corbett (ed), Modern Sufis and the State: the politics of Islam in South Asia, NYC, Columbia University Press, 2020, p.140-160
-« 'We are peace-loving people'. Sufism, Orientalist Constructions of Islam and Radicalization », in Véronique Altglas et Matthew Wood (Eds.), Bringing Back the Social into the Sociology of Religion. Critical approaches, Leiden, Boston, brill, 2018, p.189-213.
-« Pakistani Sufism in the Gulf. Structural constraints, modes of transplant and remittances", in Christophe Jaffrelot et Laurence Louer (dir.) Pan-Islamic connections. Transnational networks between South Asia and the Gulf, Londres, Hurst and Company, 2017, p.155-175
-« An ambiguous and contentious politicization of Sufi shrines and pilgrimages in Pakistan » in Michel Boivin et Rémi Delage (dir.), Devotional Islam in contemporary South Asia. Shrines, journeys and wanderers, Londres, Routledge, 2016, 174-189.
-« When Sufi tradition reinvents Islamic modernity. The Minhaj-ul Quran, a neo-Sufi Order in Pakistan", in Clinton Bennet, Charles Ramsey (ed), South Asian Sufis. Devotion, Deviation and Destiny, London, Continuum Publishing house, 2012.