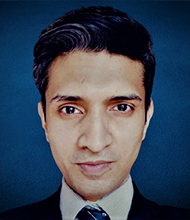 Dean's Fellow & Lecturer, Electrical and Computer Engineering
Dhanani School of Science & Engineering
Education
Executive MBA, Quantic School of Business & Technology, USA (Online Program)
MS Materials Engineering, Fulbright Scholar, Georgia Institute of Technology, USA
BE Materials Engineering, National University of Sciences and Technology (NUST), Pakistan
---
Teaching Experience
Trainer, Higher Education Commission & United States Education Foundation in Pakistan
Visiting Faculty Member, National University of Science and Technology, Pakistan
---
Courses Taught
Design of Experiments & Data Analysis
Verbal Reasoning
Quantitative Reasoning
Analytical Writing
Research Interests
Teaching & Learning
Technology Design for Learning
Human Development & Psychology
Human Centered Design for Entrepreneurship
---
Selected Publications
https://www.researchgate.net/profile/Haseeb-Shaikh
Selected Awards and Accomplishments
Awarded the Dean's Fellowship by Habib University
Awarded full scholarship for Executive MBA studies by Quantic School of Business & Technology
Awarded the Fulbright Fellowship for Master of Science degree
---
Biography
He is an educator who will force you to think. With an aim to bring formal learning systems closer to the natural learning patterns of humans.
His work in education over the last 5 years has been focused on working out how we think & learn and how we can get better at both. In pursuit of these answers, he has experimented on learners from the age of 6 to 60, from children on the street through LettuceBee Kids to professionals in formal classrooms at the Higher Education Commission, United States Education Foundation in Pakistan, and Air University. And have also co-founded and led the academic development of Scholarden, Pakistan's first and only online platform to prepare for critical thinking on the GRE.
All this work has, till date, led to a surprising answer: all of us think in the same way. In one way, it is unsurprising as well, considering that we all share some common elements in our design. That said, the journey to find this answer is not yet over. And there is a lot more work to be done to develop teaching & learning tools, systems, and institutions based on what I discover. This quest is what brings him to Habib University – to learn more about and experiment with unlocking the minds of his students – to train them in the Liberal Arts.