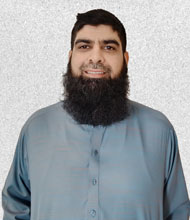 Assistant Professor,
Electrical and Computer Engineering
Dhanani School of Science & Engineering
Education
Ph.D. in Computing Systems, Virginia Tech, Blacksburg, USA, 2015
M.S. in Computer Engineering, The George Washington University, Washington DC, USA, 2009.
B.S. in Computer System Engineering, University of Engineering & Technology, Peshawar, Pakistan, 2007.
---
Awards and Honors
HEC scholarship for MS studies in USA, 2008 – 2009
Research Assistantship Award, Virginia Tech, 2010 – 2013
HEC scholarship for PhD studies in USA, 2010 – 2015
Super Computing, Seattle, USA, 2011
HPDC Grant, USA, 2013
Medidata Solutions Performance Award, USA, 2016
USAID project Award, 2018 – 2019
Letter of Appreciation for Teaching Excellence, UET Peshawar, 2021
---
Research Interests
Simulation modeling of infectious diseases over realistic social contact networks
Cloud-supported large-scale systems for Internet of Things (IoT)
Precision agriculture supported by IoT, AI and ML
Blockchain and their applications
High Performance and Distributed Computing
---
Biography
Dr. Kamal is a software system architect, academician and researcher. He is currently heading the IoT initiatives in the Electrical and Computer Engineering program at Habib University. He has received his MS in Computer Engineering from The George Washington University in 2009 and Ph.D. in Computing Systems from Virginia Tech in 2015. His professional career consists of activities ranging from R&D, Industry, and research projects. He has also worked as a Senior Software Engineer (2015 – 2017) at Medidata Solutions, New York, USA.
Dr. Tariq Kamal's research mainly focuses on the IoT, Blockchain, and Cloud Computing. Specifically, he is interested in the applications of Cloud-computing, IoT, and Machine Learning towards Agriculture, Healthcare and Urban Infrastructure. Dr. Tariq Kamal has collaborated on several research projects with academia. He has worked on a USAID-funded project on the application of IoT towards solar energy systems. He has also worked with the Agriculture Development Unit of Punjab, Pakistan on the application of IoT and AI towards precision agriculture.
---
Publications
Journal Articles

A Memon, MW Mustafa, MN Aman, M Ullah, T Kamal, A Hafeez, "Dynamic Low Voltage Ride through Detection and Mitigation in Brushless Doubly Fed Induction Generators". Energies 14 (15), 4461.
Muhammad Waleed, Tai-Won Um, T Kamal, Syed Muhammad Usman, "Classification of Agriculture Farm Machinery using Machine Learning and Internet of Things". Symmetry 13 (3), 403.
Muhammad Waleed, Tai-Won Um, T Kamal, Aftab Khan, Zaka Ullah Zahid. "SIMD: An Agent-Based Simulator for Modeling Contagion in Population". Appl. Sci. 2020, 10(21), 7745; https://doi.org/10.3390/app10217745.
Ullah, R.; Marwat, S.N.K.; Ahmad, A.M.; Ahmed, S.; Hafeez, A.; Kamal, T.; Tufail, M. A Machine Learning Approach for 5G SINR Prediction. Electronics 2020, 9, 1660.
Muhammad Waleed, Tai-Won Um, T Kamal, Aftab Khan, Adil Iqbal. "Determining the Precise Work Area of Agriculture Machinery Using Internet of Things and Artificial Intelligence". Appl. Sci. 2020, 10(10), 3365; https://doi.org/10.3390/app10103365.
Khan Aftab Khan, Umair Khan, Muhammad Waleed, Ashfaq Khan, T Kamal, and Safdar Nawaz Khan Marwat. "Remote Sensing: An Automated Methodology for Olive Tree Detection and Counting in Satellite Images," in IEEE Access, vol. 6, pp. 77816-77828, 2018, doi: 10.1109/ACCESS.2018.2884199.
S Marwat, Y Mehmood, A Khan, S Ahmed, A Hafeez, T Kamal, A Khan. "Method for Handling Massive IoT Traffic in 5G Networks." Sensors 18 (11), 3966
A Khan, S Rehman, M Waleed, A Khan, U Khan, T Kamal, SK Afridi. "Forensic video analysis: Passive tracking system for automated person of interest (POI) localization." IEEE Access 6, 43392-43403

Conference Articles

N Li, A Escalona, T Kamal. "Skyfire: Model-based testing with cucumber." 2016 IEEE International Conference on Software Testing, Verification and Validation.
Kamal T, Butt A, Bisset K and Marathe M. "Cost Estimation of Parallel Constrained Producer-Consumer Algorithms." In 23rd Euromicro Conference on Parallel, Distributed and Network-Based Processing (PDP 2015, Finland)
Kamal T, Bisset K, Butt A, Marathe M (2014) Cost Estimation of Parallel Constrained Producer-Consumer Algorithms. In IEEE Cluster 2014. Madrid, Spain, 22-26 September, 2014.
Kamal T, Bisset K, Butt A, Marathe M, and Chungbaek Y. Performance Modeling and Load Balancing for Large Scale Epidemiological Simulation. Short paper. ACM International Symposium on High Performance Parallel and Distributed Computing (HPDC), New York, NY, pages 2, June 2013.
Bisset K, Aji A, Bohm E, Kale L, Kamal T, Marathe M, Yeom J, Simulating the Spread of Infectious Disease over Large Realistic Social Networks using Charm++. In Parallel and Distributed Processing Symposium Workshops & PhD Forum (IPDPSW), Shanghai, China, May 21-25, 2012. 10.1109/IPDPSW.2012.65.
Bisset K, Aji A, Kamal T, Yeom J (2011) Large-scale computational epidemiology simulations using Charm++. In 9th Annual Workshop on Charm++ and its Applications. Urbana, Illinois.
Aji A, Kamal T, Yeom J, Bisset K (2011) Large-Scale Computational Epidemiology Modeling using Charm++. In Supercomputing. Seattle, WA, Nov 12-19, 2011.