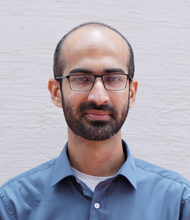 Dean's Fellow, Computer Science
Dhanani School of Science & Engineering
Education
M.Eng. Robotics, University of Maryland, USA (2018-2020)
B.Eng. Mechanical Engineering, National University of Sciences and Technology (NUST), Pakistan (2013-2017)
---
Research Interests
Robotics
Machine Learning and Artificial Intelligence
---
Biography
Mohammad Salman completed his undergraduate education in Mechanical Engineering from NUST in 2017. As part of his Final Year Project, he worked on the mechanical design of a prosthetic hand for upper limb amputees, and then fabricated it.
He then went on to work at Dawlance for one year as a Product Engineer for refrigerators, during which he gained exposure to the manufacturing industry.
Soon after, Salman pursued his graduate education in robotics as part of the Fulbright Scholarship program in 2018. During that program, he gained exposure to various domains in the field of robotics, such as path planning, controls, modeling, computer vision and AI. He now looks to specialize and enhance his existing knowledge in the robotics domain by conducting research and working on projects. In this journey, he wants to create in students an interest in robotics as well, and hopefully work with them on exciting projects.
---
Selected Awards and Accomplishments
Fulbright Scholarship, 2018-2020
Undergraduate Gold Medalist