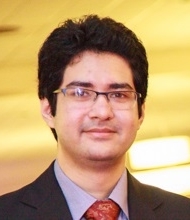 Lecturer, Electrical and Computer Engineering
Dhanani School of Science & Engineering
Education
M.Sc. in Electrical Engineering, Specialization in Signals and Systems, Santa Clara University, USA.
B.E. in Electronics, NED University of Engineering and Technology, Pakistan.
---
Biography
Saad Umer Baig is a lecturer in the Dhanani School of Science & Engineering at Habib University. He has a Master's Degree from Santa Clara University in California with specialization in Signals and Systems, particularly in the field of Digital Signal Processing.
Saad brings with himself 6 years of experience from the industry. He served in Pakistan's space agency, Space and Upper Atmosphere Research Commission (SUPARCO), and his area of work included setting up of satellite ground control stations, research in GPS software radios as well as payload adapters in satellite launch vehicles.
Saad has also worked at GCS Pvt. Ltd., which is one of Pakistan's leading security solutions primarily for government and armed forces. His area of work included research into security solutions related to image and video analytics, and also in the software, mission planning and testing of Unmanned Aerial Vehicles (UAVs) for surveillance and inspection. One of his major highlights is being part of the company which performed Wind Turbine blade inspections via UAVs for the first time in Pakistan's history.
---
Selected Publications
Uzma Afsheen, Azra Khalid, Saad Umer Baig: 'Wavelet Analysis and High Quality Compression Using Daubechies Wavelet', International Conference on Graphics and Image Processing (ICGIP 2011).
Fahim-ul-Haq, Azra Khalid, Saad Umer Baig: 'Application of Wavelet Analysis and Multi-Resolution Decomposition for High Quality Compression and Reconstruction', The Second International Conference on Future Computer and Communication (FCC 2010).
Research Interests
Unmanned vehicles and their applications.
Digital Signal Processing and its applications, particularly in the areas of biomedical research and communications.
Energy solutions, including sustainability and efficiency in distribution.
Video games as a means of spreading awareness and education.