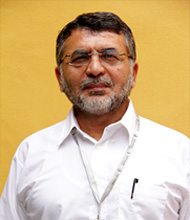 Associate Professor,Electrical and Computer Engineering
Dhanani School of Science & Engineering
Education
Ph.D. in Electrical Engineering, McGill University, Canada
M.S. in Electrical Engineering, Michigan State University, USA
B.E. in Electrical Power Engineering, Mehran University of Engineering and Technology, Pakistan
---
Awards & Honors
Pakistan Engineering Council (PEC) Expert for Accreditation of Engineering Programmes
HEC-approved Ph.D. supervisor
---
Research Interests
Optimization and Optimal Control;
Hybrid Systems;
Information Theory and Coding
Courses Taught
Information Theory;
Wireless and Mobile Communication;
Fault Diagnostics and Tolerant Systems
---
Biography
Dr. Shaikh has been an Associate Professor and Head of Department of Electrical Engineering at FAST–National University, Karachi, Pakistan. He also served as Coordinator for the Graduate Studies Committee at FAST–NU. An HEC-approved Ph.D. supervisor, Dr. Shaikh is currently supervising four doctoral candidates. Prior to joining FAST, he was a post-doctoral fellow at McGill University, Canada
Dr. Shaikh has several years of diversified industry experience. He worked for a number of years as an engineer in the Water and Power Development Authority (WAPDA), a public utility company in Pakistan. Later, he switched to IT and worked as a Programmer Analyst in Pakistan and Canada. In 2004, Dr. Shaikh completed his Ph.D. in Systems and Control from McGill University, Montréal, Canada. He was placed on the Dean's Honor List and won the D. W. Ambridge prize for best Ph.D. thesis in physical sciences and engineering.
---
Selected Publications
M.I. Nazeer and M. S. Shaikh, "Secure Network Coding Schemes: Comparisons and Broader Perspective," Sindh University Research Journal (Science Series ISSN 1813-1743), vol. 43, no. 1A, June 2011.
M. Rafi, M. S. Shaikh and A. Farooq, "Document Clustering based on Topic Maps," International Journal of Computer Applications, vol. 12, no. 1, pp. 32–36, 2010.
M.S. Shaikh and P. E. Caines, "On the Hybrid Optimal Control Problem: Theory and Algorithms," IEEE Transactions on Automatic Control, vol. 52, no. 9, pp. 1587–-1603, 2007.