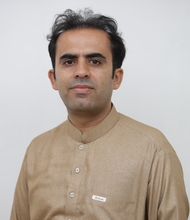 Program Director, Associate Professor, Computer Science
Dhanani School of Science & Engineering
Education
Ph.D. in Computer Science, University of Georgia, USA.
BS in Computer Science, BUITEMS, Pakistan
---
Awards & Honors
Fulbright (MS Leading to PhD)
Invited Speaker, 5th International Conference on Education (ICE) 2017
Education in Pakistan: Building Bridge between Mathematics, Science & Technology and Teacher Education.
---
Biography
Dr. Abdul Samad has many years' experience with academia and research. He did his Bachelor in Computer Science from BUITEMS, an IT university in Balochistan, 2002-2006. After his bachelor he joined BUITEMS as Research Associate. He was promoted to lecturer in 2007 where he taught courses at freshman level. He was awarded Fulbright scholarship, MS leading to PhD, in 2008. During PhD he was part of RNA-INFORMATICS lab at University of Georgia Athens, GA. His Ph.D. dissertation modeled the bio molecular structure prediction problem as finding the maximum spanning -tree on the backbone graphs.
After His PhD he joined BUITEMS as an assistant professor in the department of Computer Science. He also served as graduate coordinator and was part of many committees where his responsibilities included, designing new courses, updating the contents of existing courses.
His research interest includes deep learning, machine learning and algorithm analysis.
---
Selected Publications
Papers
Janzaib Masood, Abdul Samad, Zulkafil Abbas, Latif Khan: Evolution of locomotion controllers for snake robots. Robotics and Artificial Intelligence (ICRAI), 2016 2nd International Conference
Lubna Ayub, Abdul Samad, Sara Ayub: Differentiation of Blood Vessels in Retina into Arteries and Veins Using Neural Network. ICECUBE 2016
Abdul Samad, Lawang Khan: Introduction to Face Detection Using Eigenfaces, IEEE-ICET 2006, September 2006
Liang Ding, Abdul Samad, Xingran Xue, Xiuzhen Huang, Russell L. Malmberg, Liming Cai: Stochastic k-Tree Grammar and Its Application in Biomolecular Structure Modeling. LATA 2014: 308-322
Liang Ding, Xingran Xue, Sal LaMarca, Mohammad Mohebbi, Abdul Samad, Russell L. Malmberg, Liming Cai: Ab initio Prediction of RNA Nucleotide Interactions with Backbone k-Tree Model. CMSR@ECCB 2014: 25-42
Liang Ding; Abdul Samad; Xingran Xue; Xiuzhen Huang, Liming Cai: Polynomial kernels collapse the W-hierarchy.arxiv August 2013
Journals
Liang Ding, Xingran Xue, Sal LaMarca, Mohammad Mohebbi1, Abdul Samad, Russell
L. Malmberg and Liming Cai:Accurate Prediction of RNA Nucleotide Interactions with
Backbone k-Tree Model. Bioinformatics (2015)