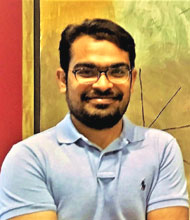 Lecturer, Electrical and Computer Engineering
Dhanani School of Science & Engineering
Education
M.S. in Electrical Engineering (Control Systems), North Carolina State University, USA.
B.E in Industrial Electronics, Institute of Industrial Electronics Engineering Karachi, Pakistan.
---
Research Interests
Control, Robotics and Mechatronics
Industrial Process Control and Automation
Non-Linear Control
Image Processing and Computer Vision
Biomechatronics and Bionics
Machine Learning and Reinforcement Learning
---
Conferences
Junaid Ahmed
, Bhavesh Kumar, Farah Haroon, Asif Memon, "
Implementation of Industrial Wireless Closed –Loop Control Network Using ZigBee
", International Multi-Topic Conference MUET Jamshoro, 11-13 February 2015, Pakistan.
Awards & Honors
Fulbright Scholarship (2016-2018).
Gold medal in BE Industrial Electronics, IIEE (NED-UET) Karachi (2014).
---
Biography
Mr. Junaid Ahmed is a control systems engineer and researcher working in the area of Modern Control Systems and Computational Intelligence. He recently graduated from NC State University, USA on Fulbright Scholarship program. During his program he worked on a number of projects related to Digital Controls, Autonomous Vehicles, Prosthetic Arm Development, Machine Learning and has done studies related to Bionics.
Prior to joining Habib University, he worked at FFC as an Instrumentation and Control Systems trainee engineer. At FFC, he gained vast exposure to Process Control, Field Instrumentation, Distributed Control Systems (DCS) and Gas Turbines (I&C). One of his achievements during his industrial experience was to work on an onsite project in which he designed an in-house built control system to replace an outdated controller which saved significant cost to the company.
He is a passionate instructor and enjoys teaching and mentoring students. In the past, he also worked at PAF-Karachi Institute of Economics and Technology as a Graduate Teaching Fellow. He joined Habib University as a Lecturer in Electrical Engineering to pursue his passion of teaching and research by working with young minds to contribute towards the stream of modern innovation and technology.
---
Personal Website