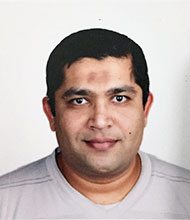 Dr. Makda has been associated with the Power Electronics Group in the University of Southern Denmark (2011
–
2015) where he carried out extensive research in the area of Electromagnetic Interference (EMI) filter design for high-power high-efficiency dc-dc converters. He proposed and experimentally verified the fully analytical EMI filter design procedure for isolated dc-dc converters. Part of his research work was also presented in Danish EMC industries
–
Delta (EMC Test and Consultancy), and Brüel & Kjær
–
which was well appreciated by EMC gurus.
In addition, Dr. Makda possesses high-quality teaching skills. To this end, he has taught various Electronic-engineering related courses at undergraduate and graduate levels. Based on his academic and research experience, he would like to introduce the most recent topics in the area of Power Electronics, for instance, design and implementation of high-power high-efficiency dc-dc converters, and EMI filter design for dc-dc converters.
Education
Ph.D. in Power Electronics, University of Southern Denmark, Odense, Denmark
M.Sc. in Electrical Engineering with Power Electronics, University of Bradford, Bradford, UK
B.E Electronics Engineering, Usman Institute of Technology, Karachi, Pakistan
Research Interests
Analysis and design of low-cost, high-efficiency, and high-power isolated dc-dc converters for renewable energy applications
Analysis and design of Conducted Electromagnetic Interference filters for various dc-dc converters
To improve the high-frequency response of designed filters
Comparison of conducted EMI noises in soft-switched and hard-switched dc-dc converters
Previous Courses Taught
Power Electronics
Basic Electrical Engineering
Basic Electronics
Electronic Circuit Design
Linear Control Systems
Awards and Honors

Recipient of full Ph.D. scholarship from European Union – eMOTION Interreg-4A program
Best paper of the session award in IEEE IECON 2013 conference held in Vienna, Austria
Completed M.Sc. Power Electronics degree with MERIT
Selected Publications
I.A. Makda, and M. Nymand, "Common-Mode Noise Analysis and Filter Design for a Phase-shifted Full-bridge Forward Converter," in Proc. PEDS 2015, Sydney-Australia, pp. 1100-1105.
I.A. Makda, and M. Nymand, "Common Mode Noise Generation and Filter Design for a Hard Switched Isolated Full-Bridge Forward Converter, in Proc. IECON 2014, Texas-USA, pp. 1312-1317.
I.A. Makda, and M. Nymand, "Differential mode EMI filter design for isolated DC-DC boost converter," in Proc. EPE-ECCE Europe 2014, Lappeenranta-Finland, pp. 1-8.
I.A. Makda, M. Nymand, and U. K. Madawala, "Common mode noise modeling and its suppression in ultra-high efficiency full bridge boost converter," in Proc. IECON 2013, Vienna-Austria, pp. 526-531 (awarded as the best paper of the session).