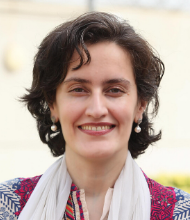 Associate Professor, Integrated Sciences and Mathematics
Dhanani School of Science & Engineering
Education
Ph.D. in Physics, TU Wien, Austria.
M.Phil. in Physics, Q.A.U. Islamabad, Pakistan.
M.Sc. in Physics, Q.A.U. Islamabad, Pakistan.
B.Sc. (Math, Physics), Punjab University, Pakistan.
---
Awards & Honors
Travel Grant Habib University, 2018-19
Outstanding poster in Hands-On Research in Complex Systems School, Trieste, Italy (2017)
HEC Startup Research grant of 0.5 M (2012)
HEC PhD Scholarship (2008-2011)
---
Courses Taught
Mechanics and Thermodynamics (PHY-101), Mechanics and Thermodynamics Lab (PHY-101L), Physics Lab II (PHY-102L), Renewable Energy: Why, What and How (ENER-104), Scientific Methods (CORE-200), Modern Physics (PHY-201), Introduction to Nano-science (PHY-104), Design your Habib Experience (PLAY-113), Calculus I (MATH-101)
---
Administration Position
Program Director iSciM DSSE (Jan 2019 – Dec 2020), Habib University, Karachi.
Chairperson Academic standing Committee (Sep 2019 – Sep 2022)
Patron of Student's "Healthy Life" Club (Sep 2020 – May 2021)
Patron of Student's "Serve club" Club (Sep 2021 – to date)
Admission Committee: 2018 – to date.
---
Biography
Dr. Sameena has done her Ph.D. in surface science from Technical University Vienna (2011), under the supervision of Prof. Peter Varga. The main focus of her work was on the ion-beam induced magnetic nanostructures of Fe grown on Cu(100) single crystal. Recently, she did her post doctorate from Middle Eastern Technical University, Ankara, Turkey. The main area of research was applications of radiation pressure excitation of non-contact atomic force microscopy (ncAFM) in ultra high vacuum.
After completion of her Ph.D., Dr. Sameena joined COMSATS Institute of Information Technology, Islamabad campus as an Assistant Professor. She successfully completed two research projects and established a material synthesis lab in the Department of Physics.
---
Publications
Aisha Ahsan, Luiza Buimaga-Iarinca, Thomas Nijs, Sylwia Nowakowska, Rejaul Sk, S. Fatemeh Mousavi, Mehdi Heydari, Meike Stöhr, Sameena S. Zaman, Cristian Morari, Lutz H. Gade, and Thomas A. Jung, "Induced Fit and Mobility of Cycloalkanes within Nanometer-Sized Confinements at 5 K", The Journal of Physical Chemistry Letters, 7504-7513, 13(32) (2022)
S. Karamat, K. Çelik, S. Shah Zaman, A. Oral,"Multilayer Graphene Growth on Polar Dielectric Substrates using Chemical Vapour Deposition",Applied Surface Science (2018).
S. Karamat, C. Ke, U. Inkaya, Rizwan Akram, Ilker Yildiz, S. Shah Zaman, A. Oral.,"Graphene/SrTiO3 hetero interface studied by X-ray photoelectron spectroscopy", Progress in Natural Science: Materials International (2016).
J. Gloss, S. Shah Zaman, J. Jonner, Z. Novotny, M. Schmid, P. Varga, M. Urbánek, "Ion-beaminduced magnetic and structural phase transformation of Ni-stabilized face-centered-cubic Fe films on Cu(100)" Appl. Phys. Lett. 103 (2013) 262405.
R. Zenkyu, J. Yuhara, T. Matsui, S. Shah Zaman, M. Schmid, P. Varga, " Composition and local atomic arrangement of decagonal Al-Co-Cu quasicrystal surfaces" Phys. Rev. B 86 (2012) 115422.
Florian Mittendorfer, Thomas Franz, Jan Klikovits, Michael Schmid, Lindsay R. Merte, Sameena Shah Zaman, Peter Varga, Rasmus Westerström, Andrea Resta, Jesper N. Andersen, Johan Gustafson, and Edvin Lundgren, "Oxygen stabilized Rh adatoms: 0D oxides on a vicinal surface" J. Phys. Chem. Lett. 2 (2011) 2247.
S. Shah Zaman, P. Dvorak, R. Ritter, A. Buchsbaum, D. Stickler, H. P. Oepen, M. Schmid, P. Varga, "In-situ magnetic nano-patterning of Fe films grown on Cu(100)," J. Appl. Phys., (2011) 110.
S. Shah Zaman, H. Oßmer, J. Jonner, Z. Novotný, A. Buchsbaum, M. Schmid, P. Varga, "Ion beam induced magnetic transformation of CO-stabilized fcc Fe films on Cu(100)," Phys. Rev. B 82 (2010) 235401.