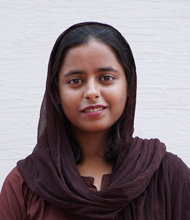 Dean's Fellow, Electrical and Computer Engineering
Dhanani School of Science & Engineering
Education:
MS Electrical and Computer Engineering (Fulbright Scholarship), Northeastern University, USA (2020-2022)
BS Electrical Engineering, Habib University, Pakistan (2014-2018)
---
Research Interests:
Field Robotics – system design, real-time data collection and analysis
Control and Communication
---
Biography:
A Fulbright Scholar, Areeba has a Masters in Electrical and Computer Engineering (2022), from Northeastern University. During her Masters, she worked at the Northeastern Field Robotics Lab where her research was primarily on designing a compact visual inertial odometry system for underwater ROVs. The aim of the project was to maintain navigation in visually compromised environments, like underwater, through IMU data. Moreover, low latency of IMU feed can be used in extreme case of emergency breaks or navigation around close-by obstructions.
During her Masters, she was also selected for the SDU International Summer School at the University of Southern Denmark, to explore and participate in the cutting-edge research, on academic and industrial scale, in the field of robotics.
In terms of industry experience, Areeba has worked in K-Electric from 2018-2020 as a Trainee Engineer followed by as an Assisstant Manager in the Project Department, where her team was overlooking the planning of all transmission-related projects in the entire city of Karachi.
---
Selected Awards and Accomplishments
Fulbright Scholarship, Masters in Electrical and Computer Engineering, USA (2020)
Best Capstone Award, Bachelors in Electrical Engineering, Habib University, Pakistan (2018)
---