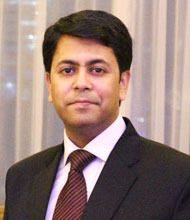 Assistant Professor, Electrical and Computer Engineering
Dhanani School of Science & Engineering
Education
Ph.D. in Interdisciplinary Engineering, Khalifa University, Abu Dhabi, UAE.
M.S. in Microsystems Engineering, Masdar Institute, Abu Dhabi, UAE.
B.S. in Electronic Engineering, BUITEMS, Quetta, Pakistan.
---
Awards & Honors
Titled 'Debonair Professor' in December 2019 by the Society of Electronic Engineers BUITEMS in recognition of innovative teaching and contributions made to student learning.
3rd Position in the Applied Research Competition Organized within the Cyber Security Awareness Week (CSAW) 2017 of New York University Abu Dhabi.
Graduate Fellowship for 4-year PhD program at Khalifa University, UAE (2014-18).
Graduate Fellowship for 2-year MS program at Masdar Institute of Science & Technology (now Khalifa University, KU) (2012-14).
Team Achievement Award for year 2011-2012 at SUPARCO.
Gold Medal from Chancellor of BUITEMS for obtaining 1st Position in Class of 2008.
Merit Scholarship, for all eight semesters at BUITEMS, for securing position within top 5% students of the batch (2004 to 2008).
---
Courses Taught
Advance Digital Systems
Digital Signal Processing
Embedded Systems
Digital IC Design
FPGAs
MEMS Design and Analysis (TA'ed)
Digital Systems Laboratory (TA'ed)
Research Interests
Efficient digital systems design
Efficient processor design
MEMS design and analysis
Embedded Systems for IoT applications
Digital IC design
IMU array sensor fusion
---
Teaching Experience
Assistant Professor, BUITEMS, Quetta, October 2018 to January 2020.
Teaching Assistant, Masdar Institute at Khalifa University, Fall 2013 to Fall 2017.
---
Biography
Dr. Waheed received his BS in Electronic Engineering from the BUITEMS, Quetta, Pakistan, in 2008. After working in the Pakistan's Space and Upper Atmospheric Research Commission (SUPARCO) for four years, he pursed his MS in Microsystems Engineering from Masdar Institute, and then PhD in Interdisciplinary Engineering from Khalifa University UAE.
Before joining Habib University in January 2020, Dr. Waheed was associated with BUITEMS, Quetta, where he worked as Assistant Professor in Department of Electronic Engineering.
Dr. Waheed has research interest in the areas of sensor array processing, digital beamforming, MEMS design and analysis, motion sensor data fusion, and embedded signal processing. He has authored several refereed publications and the inventor on one (filed) US patent.
---
Selected Conferences
---
Selected Journals
W.U. Syed, A. Brimmo, O.T. Waheed, A. Bojesomo, M.H. Ali, I. Ocak, S. Chengliang, A. Chatterjee, and I.M. Elfadel, "Numerical Modeling and Validation of Squeezed-film Damping in Vacuum-Packaged Industrial MEMS," Journal of Micromechanics and Microengineering (JMM), Jun. 2017.
Link: https://iopscience.iop.org/article/10.1088/1361-6439/aa71cb
---
Book Chapters