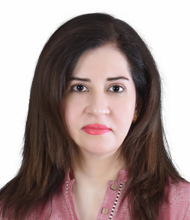 Assistant Professor, Comparative Humanities
School of Arts, Humanities & Social Sciences
Education
Ph.D. English, Queen's University Belfast (2018-2023)
M.A Theatre Criticism and Dramaturgy, The Royal Central School of Speech and Drama, University of London (2016 – 2017)
BA (Hons) English, Goldsmith College, University of London (2012-2015)
---
Biography
Mehreen Odho's journey has been shaped by a profound passion for literature and the performing arts. Her pursuit of knowledge has led her to explore the intricate world of Shakespearean adaptations in both literature and performance, with a particular focus on their intersection within the context of Pakistan.
Mehreen completed her PhD at Queen's University Belfast where she wrote her thesis, titled 'Shakespeare and Pakistan: Interventions in Theatre, Film and Literature' which delved into the fascinating realm of how Shakespeare's works are reimagined and reinterpreted in the rich cultural tapestry of Pakistan. Mehreen's research journey has involved extensive exploration of the diverse adaptations of Shakespearean plays on stage and screen, providing a unique insight into the dynamic interplay between global Shakespeare's and local artistic expressions. Prior to her PhD, Mehreen earned her Master's degree in Theatre Criticism and Dramaturgy from The Royal Central School of Speech and Drama, University of London where she was a recipient of the Embassy Postgraduate Scholarship. Here, she honed her critical thinking and analytical skills, engaging with the world of dramatic arts and gaining a nuanced understanding of the intricate components that bring a performance to life. Her undergraduate foundations were completed from Goldsmith College, University of London in BA (Hons) English.
Her academic pursuits have not been limited to the confines of lecture halls and research libraries. Her impact as an educator extends beyond imparting reading and writing skills; she empowers her students to engage critically with texts, appreciate diverse writing styles, and harness their own creative voices.
Mehreen's scholarly contributions extend beyond academia and into the realm of public discourse. She has presented her research at esteemed international conferences where her insights into the cultural identities embedded within Shakespearean adaptations have garnered attention and acclaim.
Throughout her academic journey, Mehreen Odho has epitomized the spirit of intellectual exploration and the pursuit of excellence. Her dedication to understanding what she views as the inextricable link between literature, performance, and cultural identity has enriched the realm of Shakespeare studies and Adaptation studies.
---
Publications
2022 – Odho, M., 'Sang-e-Mah (2022): Explorations of Cultural Identities in Shakespearean Adaptations on Pakistani Television', paper presented for the panel 'Unmasking Shakespeare through Popular and New Media' during the online 5th Asian Shakespeare Association Conference 'Unmasking Shakespeare'
2022 – Odho, M., 'Is Sang-e-Mah an adaptation of Shakespeare's Hamlet?', Dawn (Images), 5 April 2022 (Newspaper article)
2021 – Odho, M., 'Female Submission or Empowerment? Re-visiting the Pakistani Film Naukar Wohti Da (1974)', paper presented during the seminar 'Revisiting South Asian Adaptations' during 'Shakespeare Circuits', the 11th World Shakespeare Congress in Singapore
2018 – 'Shakespeare in Contemporary Performance' presentation given at the Oxford University Press (OUP) event in Karachi, 'Why Shakespeare? To many people in the country Shakespeare seems unintelligible. Is teaching Shakespeare relevant to today's Pakistani students?'