A meaningful and intellectually exciting learning experience is at the heart of Habib University's academic framework. We see students as active 'architects' designing their own learning paths and dynamic participants shaping their knowledge, skills and values.
Habib University's undergraduate intellectual experience is mind and heart stimulating, interdisciplinary, grounded in both local and global contexts, mentored by highly qualified faculty and supported by student success services. Habib's intellectual experience will give you tools to become thoughtful and reflective learners with a variety of intellectual and technical skills. It will help you deepen and broaden your understanding of the world in which you live so you can make conscious and sensible choices in your life for living and working.
Key Elements of Habib's Intellectual Experience
Following key elements make Habib's intellectual experience unique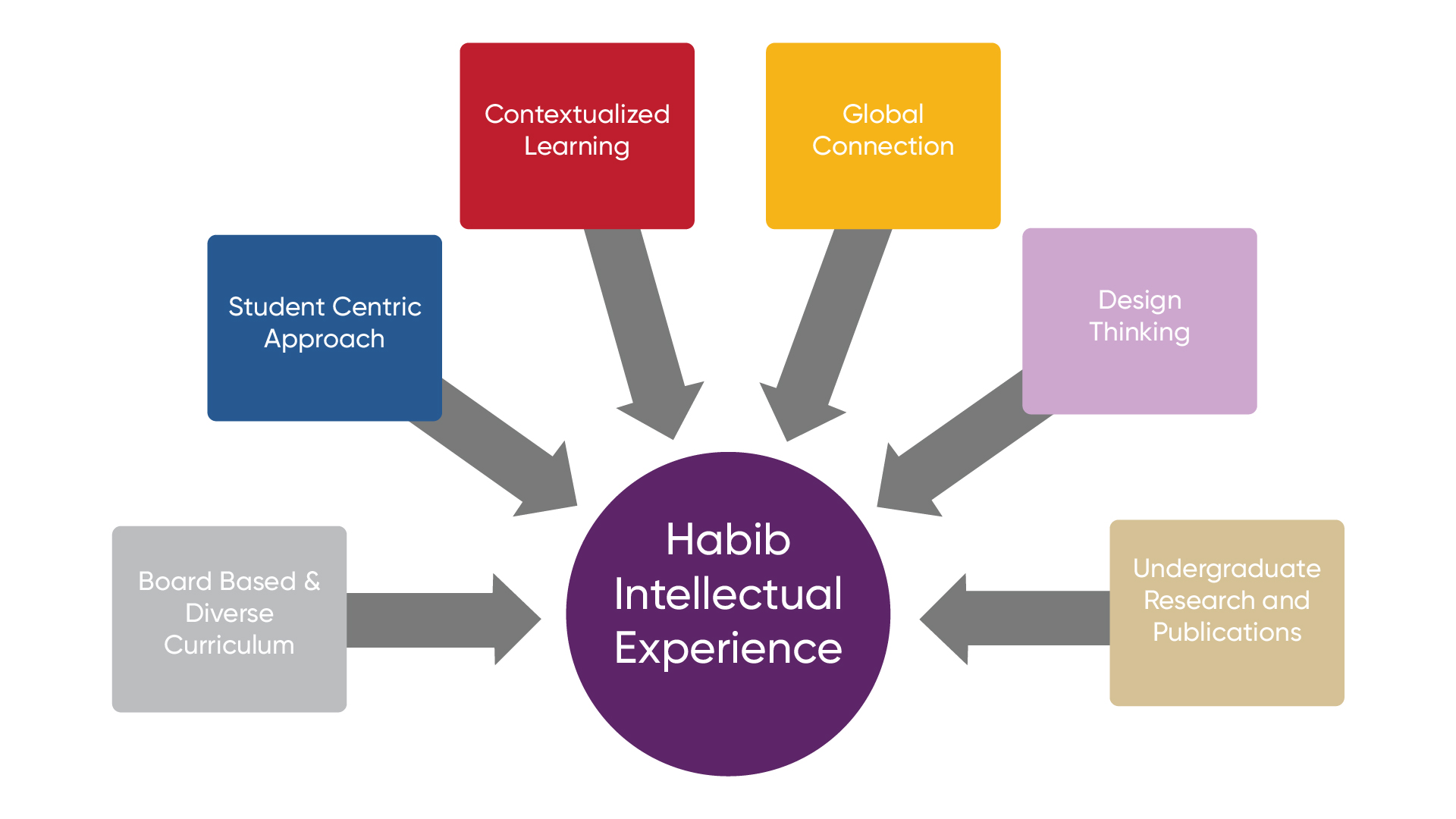 Broad based & Diverse Curriculum
Habib University Curriculum is broad based and interdisciplinary that allows students to shape their degrees as per their diverse interests, skills and career aspirations. The following diagram will help you understand the intellectual richness and diversity of courses available to you and the possibility of crafting your own unique degree program through different courses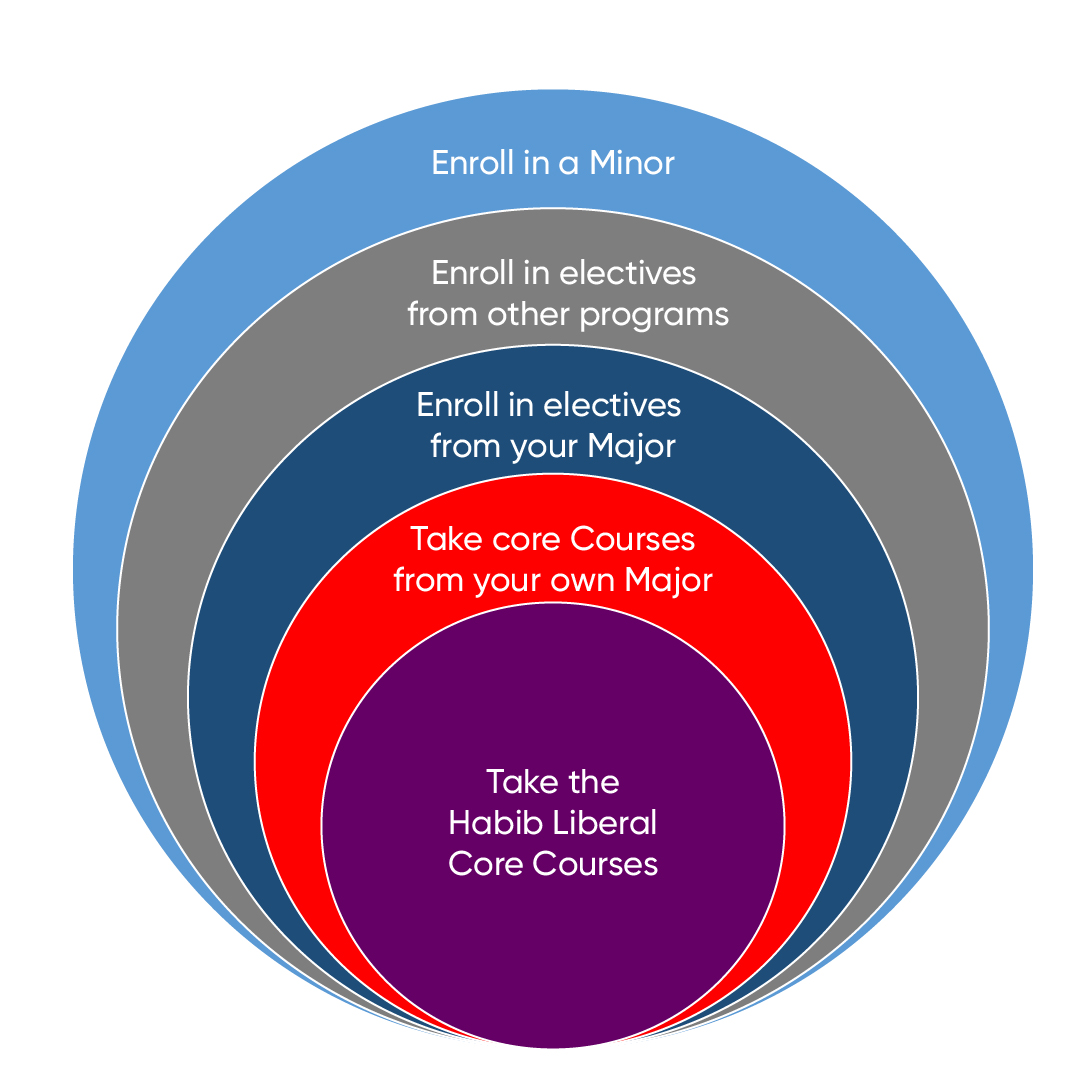 The Habib Liberal Core Curriculum
The Habib Liberal Core Curriculum is a set of ten interdisciplinary courses mandatory for all students. It aims to ensure that all students, regardless of their Major, are exposed to a broad range of the existing forms of knowledge. It comprises courses designed by integrating disciplines from the Social Sciences, Humanities and the Naturals Sciences
The Liberal Core fosters a wide-range of thinking including historical and social thinking, philosophical thinking, formal and quantitative reasoning, scientific thinking and creative practice.
It will enhance your understanding of the world in which you live and encourages you to integrate that understanding with your Major. It also helps you to nurture your ability to understand divers perspectives, think critically, make connection. For further details, click here.
Core/Required Courses for Your Major
HU offers six Majors i.e. Computer Science, Electrical Engineering, Computer Engineering, Social Development and Policy, Communication and Design and Comparative Humanities. Each Major offers a set of Core courses which will help you to build a thorough understanding and skills pertaining to your Major.
Electives from Your Major
Each Major offers different courses as Electives under various themes/concentrations related to your Major. Students are given the opportunity to select electives according to their interest. These Electives also provide you the opportunity to shape your degree as according to your skills, interests and career aspirations.
Electives from other Majors and Programs
Habib allows students to take some University wide electives called 'Free Electives'. These electives allow you to study courses from other Majors in order to make your degree an inter-disciplinary degree. For example, you may have Computer Science as your Major but you can select electives from Social Development and Policy.
Integrated Science and Mathematics (iSciM) Program, Centre for transdisciplinary design and innovation (Playground), and the Centre for South Asian Music offers a variety of courses related to natural sciences, design and music. You can choose your free electives from these courses too add richness to your learning experience.
Earning Minors with Your Major
Deciding a major is tricky. Many students express interest and have the ability to excel in more than one area of study. In certain cases, students require in-depth understanding of an additional field of study to get closer to their goals and ambitions. In situations similar to these, students opt for a secondary area of depth, normally termed as a minor program.
A minor is a secondary focus for students enrolled in an undergraduate program. These experiences are extremely valuable as they not only contribute to the development of a well-rounded personality but also add key strengths to a student's profile, enabling them to expand their future options both in academic and non-academic endeavors. (Courtesy: Dr. Anzar Khaliq)
At Habib University, there is a range of academic minors catering to the needs of students from all backgrounds and disciplines. You may choose a minor from the list below:
Comparative Literature
Philosophy
Religious Studies
History
South Asian Music
Communication & Design
Social Development & Policy
Physics
Mathematics
Computer Science
Electrical and Computer Engineering
Your Faculty Adviser and Academic Adviser will help you understand all these course categories and guide you in selecting the right type of courses for you. To read more about Minors, visit here.
Student Centric Approach
Student Success is our key strategic goal to ensure that our students become the choice of top employers and the institutions of higher learning based on their educational capability, rich learning experience, strong personal profiles and diverse skill set.
We ensure this through:
Small Class Size
12:01 student faculty ratio to ensure close student faculty interaction and individualized faculty support to students
A Comprehensive Student Support Framework
Habib has made serious investments in creating student support services to ensure the intellectual, physical, social, emotional and career wellbeing of students. Read more about our student support services.
World Class Faculty
Habib University also ensures recruiting the best possible faculty locally and internationally to expose our students to a diverse experience and cutting-edge pedagogy. Faculty at Habib also play the role of mentors to guide students beyond their academics. Read more about faculty.
Contextualized Learning
Habib University exposes students to global ideas and skills but also help them to contextualized them for effective implementation. Through a variety of courses, students are helped to understand local history, culture and context to support them in grounding their learning in a local context.
Global Connections
Habib's Global Learning opportunities aim to produce globally competent citizens, who are able to thrive in today's interconnected society and serve as ambassadors to the rest of the world. Global learning opportunities provide exposure to a diversity of perspectives on various issues to enrich students' learning experience
The Habib University's Learn Abroad Program is one of the outcome of HU's partnerships with Stanford University USA, University of Michigan Ann Arbor, University of California Barkley and Texas A&M USA. It aims to help enterprising students enrich and diversify their undergraduate learning experience and build leadership skills in an increasingly globalized world by spending a few weeks, months or an entire semester at world-renowned universities. Read more at https://habib.edu.pk/global/
Design Thinking
Design thinking is a process for creative problem solving with human-centered approach. It encourages problem solvers and designers to focus on the people they're creating for, which leads to better products, services, and internal processes. This is being used as a key approach to solve problems around the world and HU aspires to equip all of its students with the skills to use this approach.
The playground at Habib University is set as the most cutting-edge design research facility in the country. It provides an unparalleled ecosystem for a creative, collaborative and transdisciplinary approach to problem-solving. Playground offers several workshops and research opportunities to students to train themselves in this cutting-edge approach. Read more at https://habib.edu.pk/playground/
Undergraduate Research and Publications
Research and publications contribute significantly in enriching the intellectual experience of students. Habib University facilitates its students in learning to design and carryout research projects through their courses as well as offers exclusive programs to further facilitate them.
Summer Tahqeeq Program
Under this program, Habib students can participate in faculty led research projects soon after completing their year 1. Summer Tahqeeq program provides an exclusive opportunity to learn research skills from faculty mentors while contributing to interesting projects. Students are also supported to design their own summer research projects and write research papers to get them published in international journals.
Playground Research
The playground at Habib University is set as the most cutting-edge design research facility in the country. Leveraging the spectrum of expertise available at Habib University and using the Human-Centered Design approach as its central pillar, the playground provides an unparalleled ecosystem for a creative, collaborative and transdisciplinary approach to problem-solving. It engages students in solving industry problems and undertake research projects. You may find several interesting opportunities to nurture your interdisciplinary research potential.
Publications
Publish in international Journals – Habib University students get several opportunities to write research papers under the mentorship of faculty and get them published in international journals.
Tezhib is Habib University's first undergraduate academic journal by the Interdisciplinary Research and Action Centre (IDRAC). Tezhib, publishes writings from comparative literature, religion and philosophy, political economy, political science, history and postcolonial analysis, arts informed research, computational social science, systems analysis and more. Gulzar, which is a subsection of Tezhib is especially dedicated to works of creative expression produced in Urdu and regional languages of Pakistan. Tezhib provides a platform to highlight the research work produced by students at Habib University under the guidance of our faculty.
Arzu Anthology – Habib University's (HU) Arzu Program of Languages and Literature publishes Arzu Anthology which is a collection of poetry, short stories and flash fiction. It provides HU students with a platform to express their talent and creativity through powerful stories.