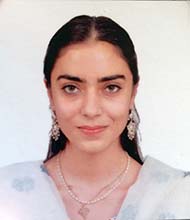 Lecturer,
Comparative Humanities
School Of Arts, Humanities & Social Sciences
Education
M.Mus. Ethnomusicology, SOAS, UK.
Diploma Musicology, Punjab University, Pakistan.
BA Biology, Bryn Mawr College, USA.
Courses Taught
Music of South Asia: Styles and Structures
---
Biography
Sadaf Habib graduated from Bryn Mawr College with a major in Biology and completed a Masters degree in Ethnomusicology at the School of Oriental and African Studies, SOAS, UK, in 2018. Sadaf's MA dissertation was an inquiry into ethnographic approaches, postcolonial theory and Khayal music in Lahore. Her dissertation began with a critique of recent scholarship on South Asian classical music which are detailed and valuable yet orientalist in understanding classical music discourse. She then analyses themes found in primary texts from the 15-17th century to create a picture of the embedded history found in the classical music genre of Khayal today. Finally, she discusses what makes Khayal 'classical' in today's context and finds that there are layers of historical, philosophical and social components that molded this genre into the art we know today. She believes there is much scope for expanding our understanding of what Khayal is, both historically and in today's context using current ethnographic study and researching embedded history and early developments of this music genre.
Other interests include larger questions of how musical practices within communities are utilized as tools for negotiating development and questioning dominant paradigms in today's world. In addition to this, she has had continued exposure to diverse theoretical and practice-based forms of music, instrumental training and dance. She is currently learning to play the Sitar.