Summer Program for Language, Arts, Sciences and Humanities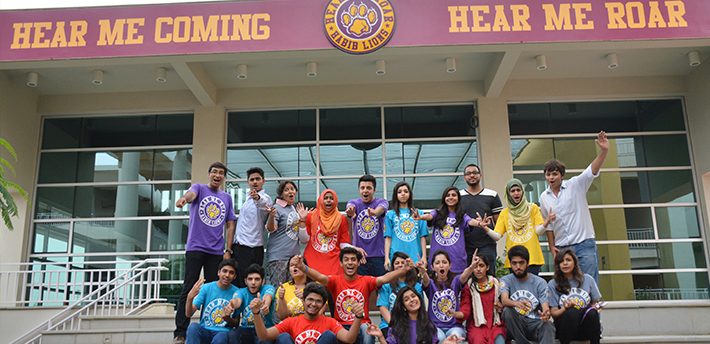 SPLASH – Habib University's Summer Program is designed to provide incoming students the support necessary to succeed at Habib University. Jump right into your first college experience where you will enhance your skills in college level reading, writing, public speaking and computation. You will also get the opportunity to take other interesting courses.
SPLASH demonstrates Habib University's commitment to providing exceptional learning opportunities for its students. We CARE for our students and, therefore provide them with an exciting learning opportunity to sharpen their skills before the commencement of their first semester.
HU SPLASH 2019 will provide you opportunities to…
LEARN new skills necessary to succeed in university.
MEET with your future university fellows.
MAKE new friends
GET READY for your first Semester at Habib
EXPERIENCE Habib University's learning environment
BENEFIT from HU's resources and facilities such as the gym, swimming pool, etc.
ENJOY your summer!
Timelines
Registration Deadline:
12th June, 2019
Program Dates:
24th June – 18th July, 2019
Orientation:
21st June 2019
APPLICATION PROCESS
Who can enroll for HU SPLASH 2019?
Students who have been offered and accepted admission to Habib University for the class of 2023.
Students who have been offered admission but have not yet accepted.
Guidelines for Enrolling in the Program:
HU SPLASH 2019 offers several courses to students. Following are the guidelines for the enrolment:
Academic Writer's Workout course is mandatory for all SPLASH participants.
You may choose optional courses as per your interest and schedule. There is no limit for the number of courses.
Registration for the courses will be conducted on a first come, first served basis. As soon as the seats available for a course are filled, registration for that course will close.
How to register for SPLASH?
You can register for SPLASH 2019 by filling the registration form available at:
https://habib.edu.pk/husplash-form/
Recognition
A participation certificate will be provided to all those students who maintain 90% and above attendance in their registered courses.
Students maintaining 100% attendance and punctuality will be presented with special awards.
PROGRAM FEE
Program Fee:
The total cost of the Program is PKR. 8000/-. Participants who wish to avail and register for Habib University's transportation services will be facilitated without extra charges.
How to Pay the Fee?
Students will need to obtain a fee voucher form from Mr. Zeeshan Zain, Assistant Manager – Office of Admissions. You can email him at hu.splash@habib.edu.pk

For more information, visit us at:
Habib University, University Avenue,
Off Shahra-e-Faisal, Gulistan-e-Jauhar, Karachi – Pakistan
Web: www.habib.edu.pk Email: hu.splash@habib.edu.pk
Phone: +92 21 11 10 HABIB / 0322-2850249 / 0322-2850245
---