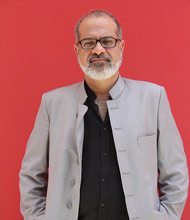 Associate Professor,
Comparative Humanities
School of Arts, Humanities & Social Sciences
Education
Ph.D. in Anthropology, Columbia University, New York, USA.
B.A. in Philosophy, Reed College, Oregon, USA.
---
Teaching Experience
Mellon Post-Doctoral Fellow, Toor Cummings Center for International Studies & the Liberal Arts, Connecticut College, Fall 2009 to Spring 2011
Mellon Post-Doctoral Fellow, Department of Comparative Literature, Brown University, Fall 2007 to Spring 2009
Preceptor, 'Contemporary Civilization,' Columbia University, Fall 2004 to Spring 2005
---
Courses Taught
New Perspectives on Modern Global Society
Muslim Postcolonial Melancholia
The Partition of India in Fiction and Film
Historical Anthropology of South Asia
A Literature of Trauma: Literature, Modernity and the Islamic Periphery
Subaltern Studies: History, Literature, Theory
Rhetoric and Communication
What is Modernity?
Pakistan and Modern South Asia
---
Biography
Professor Nauman Naqvi has had a diverse career experience, both inside and outside the academy. Beginning with a bachelors in philosophy from Reed College in 1992, where his senior thesis used the work of Heidegger and Wittgenstein to unravel the solipsistic conception of subjectivity underlying the 'problem of other minds' in Anglo-American epistemology and philosophy of mind, he first turned to journalism as the promise of an immediately historical, political and social practice of knowledge and self.
Between 1992 and 1994, he worked as an Assistant Editor at Newsline, Karachi, with its acclaimed editor, Razia Bhatti, where along with his regular critical reviews, he also wrote some breakthrough feature essays (on transgender communities of Karachi, and on free madmen in the city). Later, from 1997 to 1998, he was a Producer in the Urdu section of the BBC World Service in London, where he produced many features in its current affairs program 'Mizan', enhancing his experience of the vernacular production of knowledge. In the interim, from 1995 to 1997, his commitment to research took him to the Sustainable Development Policy Institute in Islamabad to work with the heterodox development thinker and current Chairperson of Higher Education Commission (HEC) Pakistan, Dr. Tariq Banuri, as the Managing Editor of the Institute's publications unit.
Dr. Naqvi then returned to the academy in 1998 to study anthropology at Columbia University under Nicholas B. Dirks and Partha Chatterjee, and wrote his dissertation on the history of modern Urdu literary-critical culture, especially with respect to the problematic of the ghazal at key moments in the trajectory of Indo-Muslim nationalism. While still a graduate student, he was selected to teach Columbia University's core curriculum flagship course on the history of Western moral and political thought, 'Contemporary Civilization.'
His first appointment on receiving his Ph.D. in anthropology was as a Mellon Postdoctoral Fellow in Brown University's Department of Comparative Literature and the Cogut Center for the Humanities, with further affiliation in the Department of History, where he taught courses in the literature of Partition, and on postcolonial studies and theory from 2007 to 2009. Dr. Naqvi was then again awarded a Mellon Postdoctoral Fellowship, this time at the Toor Cummings Center for International Studies and the Liberal Arts at Connecticut College, where he taught courses in the departments of English and anthropology from 2009 to 2011.
Dr. Naqvi's thought and work cuts across anthropology, history, literature and philosophy and is centrally concerned with displaying the strenuous universals veiled in premodern and vernacular experience and forms of knowledge, a practice and thought of the universal that has been conceptually and discursively shackled and buried under colonialism and modernity. He believes that there is no genuine and rigorous universalism without inheritance, and that the freeing of universality inaugurated – in the academy itself – with the knowledge-revolution under the names of poststructuralism and postcoloniality has hardly begun to bear its potential vis-à-vis vernacular forms of knowledge. Dr. Naqvi believes that the realization of this difficult potential will be critical in the shaping of our futures.
At Habib University, Dr. Naqvi is committed to the institutionalization of a core curriculum program that will combine the histories of both regional and Western humanities and social thought to cultivate a critically strenuous universalism in the students of Habib. He is also involved in the production of state-of-the-art curricula for Habib University's programs in Social Development and Policy, and Communication Studies and Design, that respond to the local and regional inheritance, practice and realities, and that anticipate the emerging horizon and landscape of these fields.
---
Selected Publications
'Acts of Askesis, Scenes of Poiesis: The Dramatic Phenomenology of Another Violence in a Muslim Painter-Poet,'
Diacritics: A Review Journal of Criticism and Theory, Vol. 40.2 (2012), pp. 50-71.
Link: http://muse.jhu.edu/login?auth=0&type=summary&url=/journals/diacritics/v040/40.2.naqvi.pdf
'Profession on the Cusp of Saturn's House: Weighing the Wager & Wages of the Time of a Postcolonial-Historical Pedagogy, or 'Teaching History at the Limit of Time',' Interventions: International Journal of Postcolonial Studies, Vol. 16.4 (2014), pp. 588-601.
Link: http://www.tandfonline.com/doi/abs/10.1080/1369801X.2013.816068
'The Nostalgic Subject: A Genealogy of the Critique of Nostalgia,' Working Paper No. 23, Interuniversity Center for Research on Sociology of Law, Information and Legal Institutions in Italy.
Link: http://www.cirsdig.it/Pubblicazioni/naqvi.pdf
'Civilization,' International Encyclopedia of the Social Sciences, 2nd Edition (New York: Macmillan, 2008).
'A Secret South Asian Meta-Utopia,'
Seminar, April 2012.
Link: http://vvww.india-seminar.com/2012/632/632_nauman_naqvi.htm
Editor, Rethinking Security, Rethinking Development,
Islamabad: Sustainable Development Policy Institute, 1996.
'Soul Suicide', Outlook, Oct 15, 2012.
Link: http://www.outlookindia.com/article.aspx?282469
---
Video Lectures
---
Interview: 'The State has made its geostrategic location a source of revenue'