Former Chief Justice of the Federal Shariat Court of Pakistan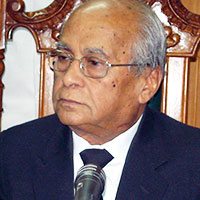 Justice Khairi has extensive experience in the legal profession, having journeyed from being an advocate of the High Court and Supreme Court to becoming Chief Justice of the Federal Shariat Court. He is a member of many governmental associations, including the National Judicial Policy Making Committee, the Law & Justice Commission of Pakistan, the Advisory Board of the Al-Mizan Foundation, and the Administration Committee of Al-Mizan Foundation. He is also on the Board of Governors, Board of Trustees, Council of Trustees and Selection Board of the International Islamic University, Islamabad.
Justice Khairi graduated in the Arts in 1954, and attained a Master's Degree in Political Science and LL.B. in 1956 from the Sindh Muslim Law College, University of Karachi. His current interests lie in literature, and he has authored several short stories and plays.