CEO, The Dhanani Group
Base of Operations: Sugar Land, Texas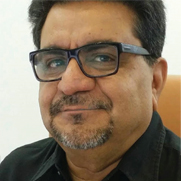 Mr. Shoukat Dhanani joins the Habib University Board of Governors from Sugar Land, Texas, U.S.A. He is the CEO of The Dhanani Group which is the largest franchisee in the Popeyes system, as well as the Burger King franchisee, making it America's third-largest restaurant franchisee. The Dhanani Group is also involved in other business ventures which include convenience stores and gas delivery. The Dhanani Group has been included in FORBES' list of America's Largest Private Companies.
The Dhanani Group remains 100% family owned and operated courtesy of the family values instilled from Mr. Dhanani's father who was the founder of the company. Being a family business, the next generation graduates form college and enters into the business and are however mentored personally by Mr. Shoukat Dhanani. His connection with the younger generation is inspiring because he nurtures and polishes talents – hidden or noticeable – of the young Americans and Pakistani diaspora in the States. In line with this, he is commonly invited to speak at universities to classes of students emphasizing that they must pursue education side by side if they have ideas of their own business ventures in order to have a holistic personal development.
Mr. Dhanani's story is a classic tale of entrepreneurship, and how a hard-working family can build a giant, and highly successful, business without venture capital or private equity money.