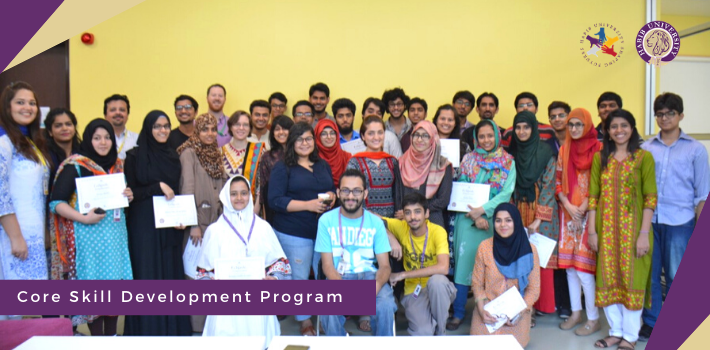 The Core Skills Development Program aims to enable students to succeed in their educational and professional pursuits. The Program ensures that students acquire and refine skills essential to undertake college level academic work successfully, function as thoughtful members of their community, and are prepared for future educational/professional pursuits.
Workshops and training sessions are organized by EHSAS, as well as other units of OAP, over the course of four years to help students acquire these skills. Workshop schedules are announced via email, Facebook, Posters, and other appropriate avenues.
Note: Due to the pandemic, all workshops for the Core Skills Development Program have been moved online on MS Teams. To attend a workshop, send a request to join the EHSAS Team and then join the "Workshop" channel at the designated time.
Academic Skills
Reading
Academic writing
Research
Note taking
Test taking
Referencing
Communication Skills
Verbal communication for a variety of purposes
Nonverbal communication
Written communication for a variety of purposes
Effective presentation
Active listening
Technical Skills
Effective use of:
MS Word
MS Excel
MS Power Point
Canva
GitHub
LaTeX
STATA
MatLab
Python
C++
SQL
Personal Development and Self-Management
Goal-setting
Time management and priority setting
Problem identification and solutions
Decision-making
Thinking critically and analytically
Overcoming procrastination
Managing self-learning and development
Stress Management
Inter-personal Skills
Emotional Intelligence
Teamwork
 Leadership
Presenting and managing self on social media platforms
Networking