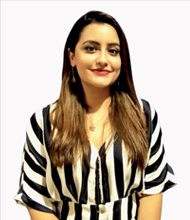 Lecturer, Social Development and Policy
School of Arts, Humanities and Social Sciences
Education
M.S in Economics, American University, Washington DC, USA.
M.Phil. in Economics (One Semester Coursework), Quaid-e-Azam University, Islamabad, Pakistan.
Global UGRAD Program, Maryville College, Maryville TN, USA.
B.S. in Economics, Institute of Management Sciences, Peshawar, Pakistan.
---
Awards & Honors
Fulbright Graduate Scholar.
Academic distinction (Silver Medal) secured at Bachelors level in Economics.
Global UGRAD Program at Maryville College, USA.
Academic Distinction secured at Matriculation board exams for securing position in the province.
Cultural and Educational Exchange scholarship funded by US Department of State.
---
Conferences
Feb 2019: Paper Discussant (The Political Economy of Development in Baluchistan: A Critical Assessment), Interdisciplinary Development Research and Action Center, Habib University, Karachi, Pakistan.
Sep 2018: Guest Speaker on War Economics and Peace Settlements in Third World Countries, Institute of Peace and Conflict Studies, Peshawar University, Peshawar, Pakistan.
May 2015: Organizer, Workshop on Civic Engagement & Local Bodies Election in Khyber Pakhtunkhwa, Sir Sahibzada Abdul Qayyum Museum Conference Hall, University of Peshawar, Peshawar, Pakistan.
Mar 2015: Participant, International Women Empowerment Conference, Pak-US Alumni Network, Islamabad, Pakistan.
Apr 2014: Guest Speaker on Climate Change, Institute of Management Sciences, Peshawar, Pakistan.
---
Biography
Sadia Mehboob is a Lecturer of Social Development and Policy (SDP) at the School of Arts Humanities and Social Sciences. She is a Fulbright Scholar, and has served as Cultural Exchange Ambassador for the US Department of State. Ms. Mehboob is a graduate of American University, Washington DC, USA with a Master's degree in Development Economics. She received her Bachelor's degree in 2015 from Institute of Management Sciences, Peshawar, in Economics. She has been an Exchange Student as a Principal Grantee for the Global Undergraduate Exchange Program in Pakistan, at Maryville College, Tennessee, USA in 2012, where she studied Environmental Economics, Contemporary Global Issues, Sociology and American History.
After her Bachelor's, Ms. Mehboob got into Quaid-e-Azam University, Islamabad, where she started her M.Phil in Economics and was trained in econometric data analysis, focusing on Time Series Econometrics, Applied Economics and Research. After securing a Fulbright grant, Ms. Mehboob left for American University, USA where her concentration was in International and Regional Development, Economics of Violence and Peace and Gender Economics. She has also worked with the World Bank on a variety of development related issues and research areas. She has a particular skill in studying Gender and Development through a deeper understanding of Econometrics, Qualitative Research Methods, and Time Series Data including Forecasting related to Macroeconomic variables.
Upon her return to Pakistan in 2018, she joined Sarhad University of Science and Technology as a Lecturer where she taught Gender Economics, Applied Econometrics and Micro Politics of Development. She has been a visiting Lecturer at Institute of Peace and Conflict, and with the International Relations Department at University of Peshawar. Ms. Mehboob has served as a Research Associate at the Regional Institute for Policy and Research Training, Peshawar as well as a Research Coordinator with Red Elephant Researchers, Australian Government.
Ms. Mehboob's research interests includes studying the health consequences of Intimate Partner Violence via Socio-Economic variables in the context of developing nations, especially Pakistan. She applied conditional mixed preference analysis by using decision-making power as variable and domestic risk factors surrounding a woman, which leads to domestic violence and health injuries consequently. She has also worked on exploring the intersection of Health and Gender Economics, studying stunting in children and its association with demographics and cultural variables in Pakistan, India and Sub-Saharan Africa. Ms. Mehboob is also interested in studying African Economies and South American countries, their colonial histories and development related issues in the light of Neoliberalism and third world politics.
Ms. Mehboob is teaching Economics, Feminist Economics, Violence, and Peace in SDP, as well as a core course on Modernity that enables students at Habib University to question their reality and philosophy of life by exploring history of Colonialism, Capitalism, Ecology and Politics and possibilities for a sustainable and bright future.
---
Interview with Voice of America, Washington DC, USA.