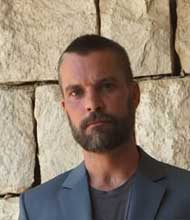 Assistant professor,
Comparative Humanities
School Of Arts, Humanities & Social Sciences
---
Education
Ph.D., English Literature 2014
The University of Glasgow, Glasgow, Scotland
Thesis Title: "Affinities of Influence: Exploring the Relationship between Walt Whitman and William Blake"
M.F.A., Creative Writing 2008
The City College of New York , CUNY, New York, NY
B.F.A. Cum Laude, Creative Writing/Pre-Law 2006
Green Mountain College, Poultney, Vermont
---
Teaching Experience
Assistant Professor of Comparative Liberal Studies Habib University, Karachi, Pakistan.
Assistant Professor of English Literature University of Balamand, Lebanon 2015-2020.
---
Courses Taught
Topics in American Literature: Transcendentalism
The Modern Novel: Performed Identity
English Communication 203
Introduction to Creative Writing
Literature and Film: Slant Retellings
Survey of American Literature: 1850-2015
Shakespeare Seminar: Influences on/of Shakespeare
The Modern Novel: Iconoclasts
Literature, Media, & Popular Culture: Feminism and the Bushido
Elements of Craft in Creative Writing
Introduction to Creative Writing: No Ideas but in Things
Modern Novel: Post-Apocalyptic and Dystopian Literature
Approaches to Literature
Poetry: The Modern Poetic Sequence
Topics in American Literature: The American Renaissance 1835-1855
Independent Studies: William Blake, The Bible, and Milton;
Critical Inquiry: Love and Desire
Rhetoric and Composition
---
Selected Publications
Academic Publications
"A Proposal for Reevaluation: Points of Contact and Sides of Likeness Between William Blake and Walt Whitman" Published in The Hawliyat Review (Spring 2017)
"Transatlantic Intersections: The Role of Ralph Waldo Emerson in the Dissemination Of Blakean Thought into the Poetry of Walt Whitman" Published in The Hawliyat Review (Fall 2016)
Poetry Collections
Statues Need Stories published by Cyberwit Books (2019)
Under What Stars published by Ampersand Books (2009)
Book Reviews
"A Wanderer's Tale" review of Campbell McGrath's Shannon: A poem of the Lewis and Clark Expedition published on Open Letters Monthly (2009)
Review of Doug Van Gundy's A Life Above Water published in American Book Review (2008)
Creative Publications
"November the 5th" and "of A Tuesday Evening"" and "of A Tuesday Evening" published by The Wild Word (2019)
"Chalked" and "The Brooklyn Public Library" published in Coldnoon Journal (Fall 2018)
"A Day, Much Like Any Other" published on Bosphorus Review (November 2018)
"Pictures II: after Grand Canal: from Santa Maria della Carita to the Bacino de San Marco by Antonio Canaletto" by Antonio Canaletto" published on BlakeLight (November 2018)
"Murmured Crowds" published on BlakeLight (Fall 2017)
"Like You Have All The Time" and "Before the Dirt" published in Rusted Radishes (Fall 2016)
"Answer Their Own Questions" published in Stand Magazine (Fall 2016)
"A Brief View of How I Imagine My Brain Works", "On Arriving in Trento, Italy" and "In Perfect Silence to the Stars" published by 1 Over the 8 Online Magazine (2015)
Conference Papers
"Swinburne's Blake: Relative Importance to Whitman's Iterations of Leaves of Grass 1867-68 and 1871-72" presented at the Sixth International Conference on Linguistics, Literature and Translation, Alzaytoonah University of Jordan 2016 October 26-27.
"(Re)iterations of Whitman: Leaves of Grass 1860, Leaves of Grass 1866-67, Changes, Causes, and Effects", University of Balamand, Seminar Series, 2016 March 22
"Whitman's 'I': Bakhtinian Conceptions of Identity in Walt Whitman's 1855 'Song of Myself'", Modernities Conference, University of Glasgow. 2012 November 10-12